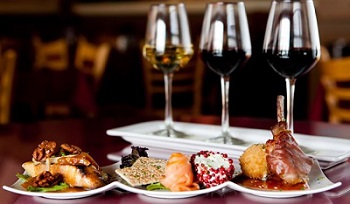 If you're stressing about creating the perfect wine and food pairings for your next dinner — don't!
Matching wine with food isn't nearly as complicated as you think. There are no "rules" you need to memorize: just a few guidelines that will help you discover your own perfect pairings.
Here are seven simple hints to help you:
–    Pair light with light and heavy with heavy. We're talking about body here, as in light-bodied foods with light-bodied wines. If you're serving delicately-flavored white fish, choose a delicate white wine such as Pinot Grigio or Muscadet. If your entree is a big slab of beef, go with a big red wine such as Cabernet Sauvignon or Brunello di Montalcino.
–    Match the wine to the dominant flavor of the food. The sauce is usually the stand-out flavor in your entree. If you're making a creamy Chicken Alfredo, a well-balanced Chardonnay with hints of vanilla will match well. But if you're serving Chicken Parmesan with a bold tomato sauce, you'd better uncork a good red. Anything Italian will work well, such as a Chianti, Barbera or Montepulciano d'Abruzzo.
–    White wine really does work best with most fish. There is some merit to that old saying, "White with Fish, Red with Meat". Bolder reds (such as Cabernet Sauvignon) contain tannins, and while tannins are good for making wines improve with age, they clash terribly with white fish or shellfish: they bring out that nasty metallic "fishy" taste.
–    But low tannin reds work well with meaty fish. Pinot Noir's smoky notes and velvety finish are a great match for Grilled Salmon or Swordfish.
–    Match fruity, slightly sweet wines with hot spicy foods. Riesling or Gewürztraminer are classic pairings for spicy Asian, Cajun or Southwest dishes. Or push the envelope with a jammy red Zinfandel.
–    High acid foods need high acid wines. Salads can be tricky to pair, because a vinegar-based dressing makes most wines taste bitter. Try high-acid whites such as Sauvignon Blanc, or better yet, serve Brut Champagne (or Sparkling Wine) with your salad course — it's very elegant and very tasty.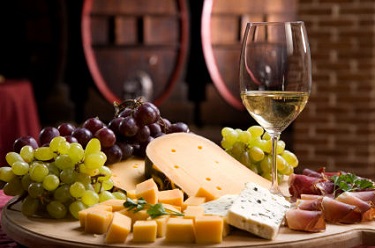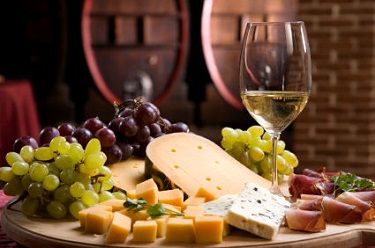 –    For great dessert pairings, make sure your wine is just a little sweeter than your food. You can keep it simple here: serve a sweet sparkling red wine from Italy, such as a Malvasia or Bracchetto, with fresh strawberries and creamy milk chocolate. Or finish off the rest of your Cabernet with chunks of bitter dark chocolate.
And most important of all — don't be afraid to drink what you like! Don't force yourself or your guests to drink big reds if they enjoy light whites. You'll enjoy your food more if the wine you drink suits your personal palate.
Remember: the best wine is the wine you like best. Cheers!