Leadership in the private and nonprofit sector come together at the Arizona Leadership Forum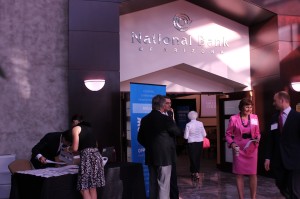 It may come to you as no surprise that Arizona is one of the poorest performing states in the US when it comes to education and poverty levels.  We have all read the statistics and seen the headlines and understand that changes need to be made.  It may, however, surprise you to know that a community bank right here in Arizona is spearheading an ambitious mission to change that.  National Bank of Arizona arranged a forum putting together business leaders in the Valley, Arizona non-profits leaders as well as legislators.  The forum kicked off February 8th at the Sheraton.  In addition to National Bank of Arizona, the founding sponsors were the Phoenix Philanthropy Group and Freeport-McMoRan Copper and Gold.
The forum was the kick off which brought in well known author and speaker Jim Collins of "Good to Great."  The forum was more than an event. It is a movement with ongoing sessions of strategizing and brainstorming to help Arizona become the great state that it should be.
It was fabulous to see so many brilliant minds coming together to discuss ideas to help our state.  Assembling such high-powered teams of Arizona business leaders was a first and definitely set a precedent.  Also overseeing the movement was Lattie Coor, Chairman and CEO of the Center for the Future of Arizona.  The movement will be on going to discuss activities and commitments to help Arizona become a great state.
National Bank of Arizona hosted the follow up meeting last week at their conference center and Phoenix Mayor Greg Stanton was in attendance.

Front page image: Keith Maio, President and CEO of National Bank of Arizona speaking at the Leadership Forum.