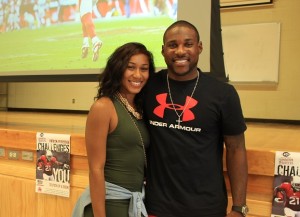 It seems that Arizona Cardinals cornerback Patrick Peterson is tackling a lot more things these days both on and off the field.  The football star was on campus yesterday for an assembly held at the San Marcos Elementary School in Chandler on Tuesday afternoon to kick off his "Pick up a Book" program sponsored by Papa Johns.  Peterson picked a random young girl from the audience to read aloud with him to the students in the audience.
The three times Pro Bowler has challenged many of the valleys schools to read 100,000 combined minutes.  Each child will track their progress online, and the school with the most minutes wins a pizza party hosted by Mr.  Peterson.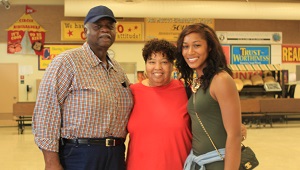 Patrick was on hand with his wife and grandparents as well as Community Leader Debbie Gaby who has recently made his foundation a part of the Sleep America Charities.  Several members of the Scholastic Books Corporation also attended.
"We have to get them [while they're] young,"said Peterson.  "Statistics show that if a child can't read by the end of the second grade, he or she will really struggle."