Arizona Taco Festival 2017
What is it about food that brings us together? Chef, Aaron Sanchez once shared that, "we are able to share our culture and heritage through food."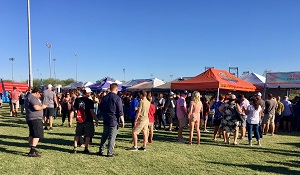 As the holiday season approaches, we can expect to see many events bring the community together. This provides families and people from all different walks of life, the opportunity to bond over food and entertainment.  For many Arizonians this past weekend Scottsdale offered just that, as people gathered at Salt River Fields for the Arizona Taco Festival.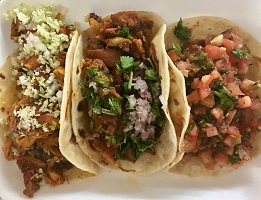 If you are a taco lover, then you would have appreciated the AZ Taco Fest. This event provided the community with two days of taco madness. According to Talking Stick, it offered around 50 restaurants.  The festival highlighted two-dollar tacos, bar and beverage stations, live music, eating contest, wrestling and a kid zone.
Marketing Manager of Talking Stick, Blessing McAnlis-Vasquez shared the importance of having event's like the AZ Taco Fest for the community. McAnlis-Vasquez went on to state, "Festivals create a sense of place for communities. They enhance guest experience; showcase the best of the local culture and what makes our communities unique. Everyone loves tacos and what better place to celebrate them than in Arizona at the Arizona Taco Festival! Over the years the event has grown into a signature event for Salt River Fields and the Talking Stick Entertainment District and we are happy to have so many establishments celebrating with us."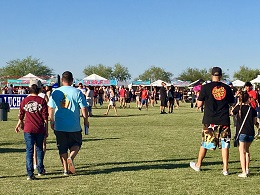 Having event's for the community not only provides families with an outing and the chance to bond, but it also draws together the community. This is one of the goals of Salt River Fields at Talking Stick when creating events. It's all about catering to the community and finding creative ways to bring people together.  McAnlis-Vasquez shared, "Salt River Fields at Talking Stick is one of the premier event sites in the Phoenix metropolitan area and strives to bring high quality experience events that are unique to the area. Having these multi-day festivals in our Community brings awareness of our Community as a whole, traffic to our entertainment district, and an opportunity for our area businesses to engage visitors in their own backyard. It's a win for everyone- the Community, Talking Stick Entertainment District, the city, state and economy."
If you made it out to the Arizona Taco Fest and are looking forward to the next Talking Stick event, then mark your calendars for October 26th and 27th! Salt River Fields Balloon Spooktacular will have live music, trick or treating, a pumpkin patch, spook trails, balloon rides, and a firework show. For those of you who are over the age of 21 and looking for an adult night out, save the date November 4th and 5th. Talking Stick will be hosting their AZ Food and Wine Experience and you don't want to miss it! The event will explore the American culinary scene and feature Martha Stewart.