Come one, come all! The Baked Bear Scottsdale is officially open! The California ice cream sandwich chain opened in the valley this weekend on Saturday. The Baked Bear specializes in custom ice cream sandwiches; with their creative cookie and ice cream flavors each unique sweet treat is sure to please.
The assembly line style allows you to choose your "top and bottom" first. This could be one of their fresh baked cookies or gooey brownies and some days even a donut! Cookie flavors include but are not limited to, cookies & cream, chocolate chip, funfetti, a gluten-free chocolate chip option, M&M, oatmeal cinnamon, red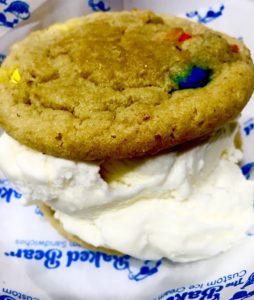 velvet, peanut butter, snicker doodle, and white chocolate macadamia nut. After mixing or matching your top and bottom, you select your ice cream flavor filling. The shop's signature ice cream flavor is "Bear Batter," a blue cake batter flavored ice cream filled with fudge brownie pieces, but they also offer classic flavors such as vanilla, rocky road, mint chip, and many others. Once completing your sandwich, you have the option to choose toppings. These toppings are small pieces rolled around the outside of the ice cream sandwich; items like chocolate chips and fruity pebbles are favorite toppings. If you're in the mood for a super gooey treat, ask to have your sandwich "hot-pressed"! Take a look at full menu online.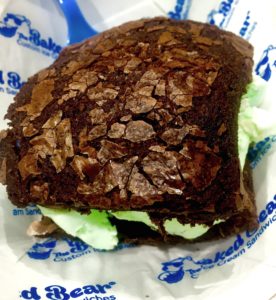 The Scottsdale Baked Bear will be open Sunday – Thursday 11a.m.-10p.m. and 11a.m.-11p.m. Friday and Saturday. The storefront is located in the Village at Shea shopping center, just east of Scottsdale Road on Shea Boulevard. A little too far from home? Keep an eye out because owners Rob Clark and Anthony Velez have plans to open stores in Tempe, San Tan village, and the west valley as well.
Head on over this week to create your own delicious desert and welcome The Baked Bear to Scottsdale! Don't forget to share your pictures of your decadent treats with me on Facebook and twitter! Happy indulging!