It isn't everyday that I find myself venturing to the East Valley for a meal but when I do find myself headed there, I must stop to enjoy Liberty Market! Liberty Market is a modern-American restaurant open from 7a.m.-9p.m. Sunday-Thursday and 7am.a-10p.m. on Fridays and Saturdays. They serve up everything from a traditional breakfast to palm sized biscuits and gravy to pizzas and gourmet burgers. But, it doesn't stop there! Liberty Market also offers handcrafted espresso drinks, homemade pastries, fresh squeezed juices and a variety of craft beverages.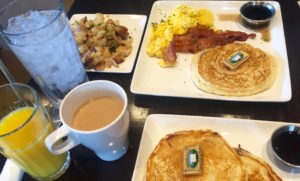 Upon entering you are immediately drawn to the exposed kitchen and captivated by the display cases, which house many different cold salads, pastries and cakes. It's impossible to stop your mouth from watering while waiting in line to place your order, the treats just look too good.
I enjoy breakfast the most at this gem, located in the Water Tower Plaza of downtown Gilbert. A delicious breakfast to me must be indulgent but not too much so that I feel as if I am enjoying a decadent dessert; which is why the Blueberry & Crispy Chopped bacon filled Buttermilk Pancakes are a favorite of mine. It is the most harmonious combination of savory and sweet! Another breakfast favorite is the "American Standard," complete with three eggs, your choice of a biscuit or pancakes, a choice of meat, and a side of their famous Liberty potatoes.
Looking for something else to start your morning? Other delicious breakfast menu items include the Southwest inspired "Smothered Breakfast Burrito" and Liberty Market's take on French toast, "Grilled Bread Pudding." Breakfast is served from 7a.m.-11a.m. daily and the menu can be found online, along with the lunch and dinner menus.
With three menus filled with creative twists on classic favorites, Liberty Market is sure to have something for everyone to enjoy for whichever meal you decide! Even if it is a little far for you, take a chance and take the drive; you and your satisfied appetite can thank me later!