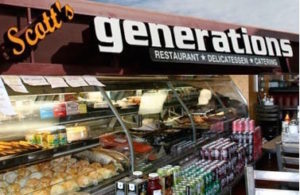 For as long as I can remember I have been surrounded by food. My father and grandfather opened Scott's Generations, a New York deli, in central Phoenix in 1989. You could say when I entered the world I was practically born into the restaurant.
I remember standing on stools to see over the counter and taking naps in booths when I was young. Becoming old enough to carry a tray, help wait on customers, and creating memories with family and friends, all centered around the table. It was then that I realized being part of the family that discussed dinner plans at breakfast was a gift, that part of the restaurant industry was calling my name, begging to be explored.
The tasting of new and different things and adventuring to unfamiliar places through creative flavors and atmospheres emerged as a passion project for me. I love to find the hidden restaurant gems all over the valley, from north Scottsdale to downtown Phoenix and anywhere in between; there are small local chains, mom-and-pop-shops, and good eats just waiting to be discovered.
Here are three of my favorite central Phoenix spots, head on in and taste the deliciousness.
Hula's Modern Tiki bar & restaurant: Located on Central Ave. just south of Camelback Rd., this Polynesian-styled restaurant atmosphere is sure to impress.
George's Kitchen: Nestled just north of the hustle and bustle of Bethany Home Rd on 16th Street, this family-owned and operated business is serving up Mediterranean dished in a sleek, contemporary setting.
Churn: When dinner is done and you're ready to indulge a sweet treat or just looking to cool off from the heat, head over to Churn, on Central Ave, just south of Missouri Ave. This ice cream shop offers a variety of natural, fresh-churned flavors made on-site daily.
Been to any of my favorites or have any suggestions for places I should check out? Let me know in the comments below. Happy eating!