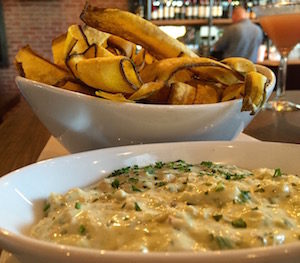 With locations throughout the valley and cohesive menus for brunch, lunch, dinner, drinks and dessert, The Herb Box is a gem. This hip rustic feeling restaurant offers a variety of options for diners in a warm and inviting setting. It is always a joy for me to go to new places and try new things, and my experience at The Herb Box's newest location on 7th Street and Missouri was no different. The staff was friendly and patient which only added to the already welcoming ambiance.
The best dinners always begin with drinks and with the innovative selection at The Herb Box, dinner is sure to be off to a perfect start. The menu takes classics and turns them into delicious, creative cocktails, martinis, margaritas, mojitos and more with new and different twists. The Herb Box also has an extensive list of red and white wines and craft brews. Fresh, flavorful food is what The Herb Box is all about; all cheeses are provided by local farmers, only cage-free eggs are used and additionally, local organic produce is incorporated whenever possible.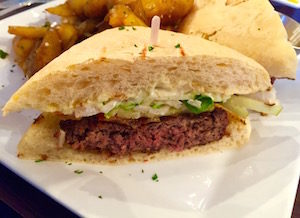 My guests and myself shared the Chilled Cilantro-Lime Crab Dip to start our dinner, which is served with baked plantain chips. If you're feeling skeptical, don't be! It is a light yet filling appetizer, jam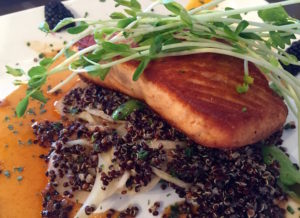 packed with flavor and is plenty big to share among friends. Entrée options vary from a Kobe burger to Sugar Charred Salmon to a Shrimp Avocado Salad with fried fennel pancetta and drizzled with lemon-honey vinaigrette. There really is something for everybody! Sides of Crispy Fingerling Potatoes or even Smoked Gouda Mac & Cheese are available to supplement your entrée, if you'd like. If you simply cannot choose between a couple items or if a side sounds to-die-for, I say splurge, it will most definitely be worth the calories!
Speaking of those extra calories, The Herb Box offers a wide variety of pastries, which are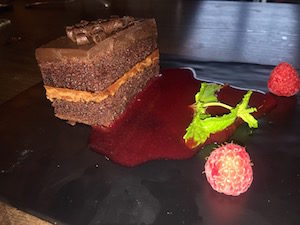 handmade by in-house pastry chefs. There is also a separate dessert menu filled with sweet treats that will complete your meal and help make sure it hits the perfect ending high-note.
With three locations throughout Phoenix and Scottsdale there is sure to be an Herb Box near you! And if not, it is worth the commute for brunch, lunch, dinner or dessert. So, head on in some time soon to enjoy the atmosphere, the staff, and most importantly, the deliciousness!
Happy dining!