Jenna Raskin invited SmartFem into her home and allowed us to get a sneak peek at the art that will be displayed at the "Love is in the Air" event that runs from Saturday, February 1st through Sunday, February 9th 2014. The exclusive event will be February 8th from 6:30 to 9:00 p.m. It's an exclusive event that you wouldn't want to miss, so make sure to RSVP.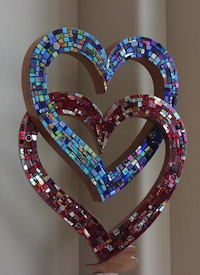 10 percent of the proceeds will be donated to Phoenix Children's Hospital, a hospital that holds a special place in Jenna's heart. While Jenna has no kids of her own, she has two nephews and one niece that she loves and adores. After her nephew came down with Crohn's disease, she realized how friendly their environment is, and she wanted to give back for what they did for him.
Jenna grew up surrounded by art. Her grandmother was an artist, and she decided to follow in her footsteps. At the young age of 6, Jenna had several of her pieces sold in Downtown Scottsdale. "I was always drawn to art… My motivation was cellular," Jenna said.
Jenna's art really took off after her marriage; her supportive husband encourages her to do what she loves, whether it is mosaics, sculpture or paintings. Jenna believes that art is a great way to channel your energy. "I'm having fun one piece at a time," Jenna said.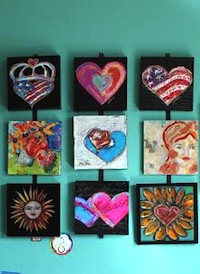 Jenna's art is inspired by love, peace and harmony. "A heart is symbolic of so many things," said Jenna. Some of Jenna's art recent collectors include President Barack Obama and Alice Cooper.
Lately Jenna has focused on charity and helping raise awareness. Not only did she grow up in the culture of giving back, Jenna believes that helping charities and organizations is a win-win. She gets to do what she loves while lending a hand to others in need.
Make some time to attend the "Love is in the Air" event at DeRubeis Fine Art of Metal Galleries Scottsdale. It's not only a great way to give exposure to PCH heart center, but to meet people that are positive and want to give back just as much as you do. It will be an evening full of fun, music and amazing art.
Jenna Raskin's art is also available at Hava Java 32nd street and Camelback thru the end of February 2014. DeRubeis Gallery Scottsdale, Mosaic in terminal 4 at the Phoenix airport, Shorelines Gallery in Coronado, California, SteinerSports.com and at Jennaraskin.com.