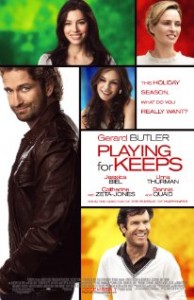 George (Gerard Butler) is a former Professional Soccer player who has hit rock bottom: behind on his bills, no job, terrible with relationships, and not exactly up for a Dad of the Year award. He moves to Virginia to be closer to his son Lewis (Noah Lomax) and to get his life back on track, but his efforts to become a "grown up" are met with amusing hurdles.
George uses his love of soccer to repair his relationship with his son by coaching his soccer team only to have Soccer Moms throwing themselves at him day and night. When he reaches out to his ex-wife Stacie (Jessica Biel) for parenting advice he discovers he is still in love with her, but oh wait… she's getting remarried. And his dream job as a sports caster for ESPN is right at his fingertips, but he would have to move and chance damaging the bond he has developed with his son.
Writer, Robbie Fox brings us a fun, romantic comedy with a phenomenal cast; Uma Thurman, Catherine Zeta-Jones, Dennis Quaid, and Judy Greer (love her!) to name a few.  Although I thought the movie was a little predictable, I thoroughly enjoyed myself. This would be a great movie for date night or a good laugh with your girlfriends.