An absolute joy to read is the first thing that comes to mind when I was asked about the new book by Linda Evans, "Recipes for Life, My Memories."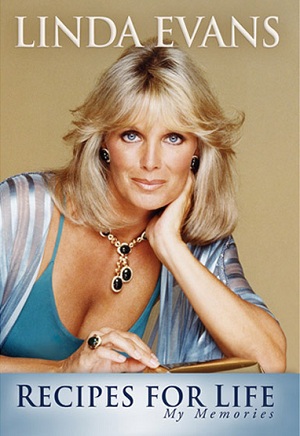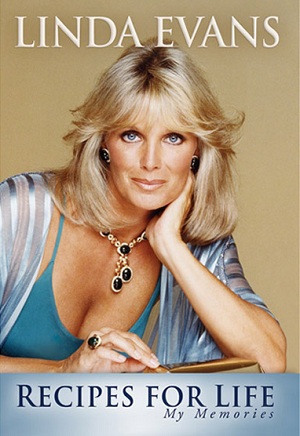 Linda Evans has mesmerized her television fans for years as Audra Barkley on the Big Valley and as the unforgettable Krystal Carrington on Aaron Spelling's hit series "Dynasty."  I love that this book has a little something for everyone.  Ms. Evans is very kind when it comes to the people she talks about in her book.  People such as John Derek, the man who left her for the 15 year old Bo Derek.  I don't know many women who would take the high road in these types of circumstances.  This is not a tabloid or kiss and tell book.  It is, however, an interesting read with lots of of pictures and fun stories about Linda's famous hollywood friends and co-stars.  She became great friends with the two women who always threatened her relationship with John Derek, both John's former wife Ursula Andress, and Bo Derek, the girl he ultimately left Linda for.  She has been able to create friendships with both of these women despite the nature the circumstances.  Linda forges lifelong friendships and it's fun to see them chronicled in the book.  This book is dedicated to her step-daughter Sean Derek whom she is extremely close with.  I was touched by her spirituality and by her ability to see the good in others as it is such a contrast to the typical Hollywood.
Linda Evans was gracious enough to grant me a live interview on Breakthrough Radio with my co-host, Dave Isaac.  During the interview Linda talks in detail about some of the many interesting stories and experiences featured in the book.  We have included the full interview here on SmartFem.
Click to listen to the Linda Evens Interview with Lea Haben on SmartFem.
The book also iincludes some great recipes from some other famous celebrities including John Wayne.   I highly recommend this book for anyone who is a Linda Evans fan.  It's a fun and very positive read and the pictures and history of her amazing life are all chronicled here.  For more information and even more exlusive unpublished photos be sure to take a look at her website.
http://www.lindaevansofficial.com