Jamie Abromovitz, created Dreamalings as an educational endeavor to enrich and educate children and adults through entertaining educational content, products, tools and programs to foster a lifelong love of learning through imagination and creativity.
She presents these stories so you can read them to your children at bedtime from your portable tablet or phone.
 –
Gabby Gabriela
Gabby Gabriela was given the gift of gab.
She uses it quite frequently,
When she's feeling good or bad.
She talks in school,
She talks at home,
She talks to friends,
And when alone…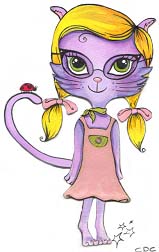 Gabby Gabriela is a girl who loves to gab.
She talks when people talk to her,
But when "they" talk, she's mad.
She talks about herself a lot,
And she talks about her dreams.
She talks about her history,
And her life is all she sees.
She never ever listens,
That would be a waste of time.
She thinks she's smarter than the rest,
Of all of humankind.
Too bad that Gabby never stopped
To hear her brilliant friends.
She talked so much,
She missed the teacher-
 Saying when class ends.
So Gabby Gabriela
Is all alone in class today.
She wasn't listening when the teacher said
"Go out and play!"
Copyright © 2002 and 2012, Jamie Abromovitz 


More Information About Dreamalings…


 All Rights Reserved. No character(s) or part of this story or book may be used or reproduced in whole or in part, or stored in a retrieval system, or transmitted in any form or by any means. This includes electronic, web, email, saving to servers, school, home, and work computer(s) or any other mobile, tablet or smartphone devices, mechanical, photocopying, recording, or otherwise without the written permission of Jaime Abromovitz. All Dreamalings and Ding-A-Lings Content & Characters TM & Copyright ©2004 Jaime Abromovitz and ©2012 Jaime Abromovitz. The Intellectual Property of all Dreamalings and Ding-A-Lings content, characters, stories, books, videos, music, apps, text, illustrations, brand, logo, and motto are protected by international and federal copyright and trademark law, and are the subject of numerous applications and registrations. For more information, email: 

info@dreamalings.com