It is nearly impossible not to smile when a butterfly enters your vision.  Now imagine thousands of them, and Phoenix is probably the last place you would expect to witness that, especially in a rainforest environment.  Since opening in May of this year, Butterfly Wonderland in Scottsdale boasts the largest butterfly atrium in America!  Due to its lush, tropical environment, it is also most likely the only butterfly atrium where you feel like you have had a moisturizing facial along with your visit…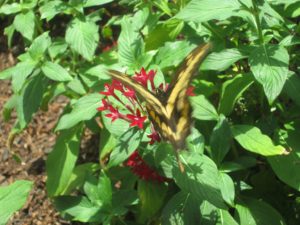 Far more than just a facility where butterflies rule, you will find several other live exhibits to fascinate your grandchildren and yourselves.  To get in the spirit of things, begin in their fabulous 3-D theater to watch the Flight of the Butterflies.  This movie chronicles the amazing journey of the Monarch Butterfly.  Your little ones will thrill at the butterflies soaring within their grasp.  Next you will enter the Emergence Gallery where you will witness various species of butterflies emerging from their chrysalises, their metamorphosis complete.
Our grandkids were really fascinated with the Live Aunt Colony and the Honey Bee Extravaganza. Watching those industrious creatures made us adults feel rather lazy in comparison! The Rivers of the Amazon exhibit showcases freshwater aquatic life up close, and even includes a baby stingray petting pool.
Above all is the Butterfly Conservatory, the magical centerpiece of this extraordinary facility!  By all means, bring your camera to this lush atrium that is adorned with tropical plants, waterfalls, koi pond, and thousands of butterflies that travelled here as chrysalises from as far away as Thailand! An equatorial climate awaits; a feast for the senses!  Be sure to school your grandchildren beforehand regarding the basic rules; no touching the butterflies, watch where you step, and enjoy it when they choose you as a landing spot! It is easy to lose track of time while watching these beautiful creatures.
If You Go:

Butterfly Wonderland 9500 E Via De Ventura Scottsdale, AZ 85256 www.butterflywonderland.com 480.800.3000   Food Items available Gift Shop Open 7 days a week, 9am-5pm Adults $18.95 ; Student, Military and 62+ $16.95; Children 3-11 $9.95 2 and under free, strollers welcome  

Check out their website for group rates, annual passes and private event rates
Please no sunscreen – since butterflies 'taste' with their feet, if they land on you  it can interfere with their ability to taste ( A Fun Fact courtesy of a Butterfly Wonderland Volunteer)