So many times my clients will say "There is absolutely no way I can be swimsuit ready or seen in public wearing a swimsuit."
My resounding comment to that statement is "Why? That is so not true!!"
The type of swimsuit you can wear, and look fabulous in while doing so, depends on your body type, style/cut of the garment, the color and the print on the material. There are 4 distinct body shapes that we are going to address, as well as dress…banana, apple, pear and hourglass. No matter your "size" and believe me "sizes" vary dramatically from manufacturer to manufacturer, you fall into one of the 4 body shapes and good news there is 1 and sometimes 2 swimsuit styles/cuts that will suit you!! So let's get started and find the perfect ones for you! The best way to determine your body shape is to stand in front of a full length mirror and take a good look at your body. Review the below illustrations and descriptions to help determine which body shape you have been blessed with and which swimsuits are best for you.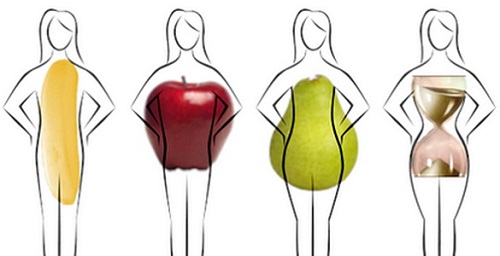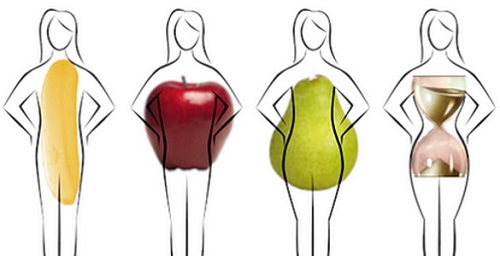 Banana – You're thin all around and have no significant difference between your hips, waist and bust.
Apple – Your waist is significantly wider than your hips and is equal to or nearly as wide as your bust.
Pear – Your hips are significantly wider than both your waist and bust.
Hourglass – Your bust and hips are about the same width, but your waist is significantly smaller.
Banana Body Shape Swimwear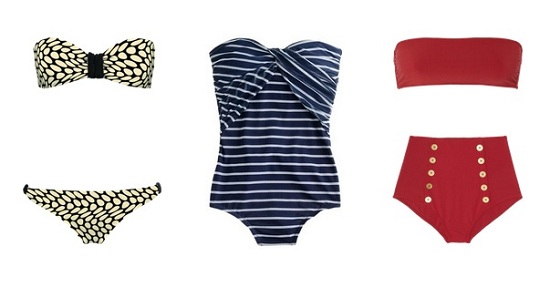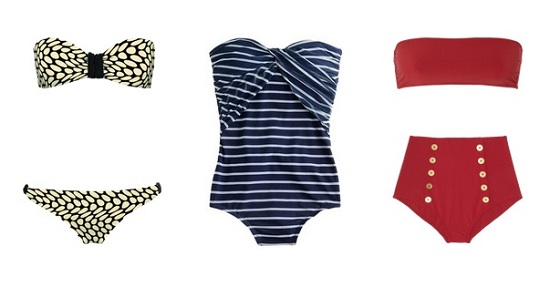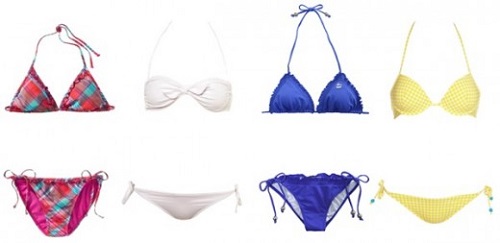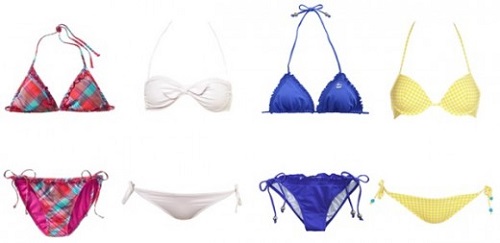 Color/Design: Bright colors and feminine prints. Horizontal stripes in the bust and hip areas to create the illusion of wider hips and curves. A one piece cut out works on your body shape.
Top: Triangle, ruffles, halter and bandeau tops with straps (all-padded).
Bottom: Ruffles around the hip area, horizontal stripes, tie sides, boy shorts with a wide belt or flared skirt.
Apple Body Shape Swimwear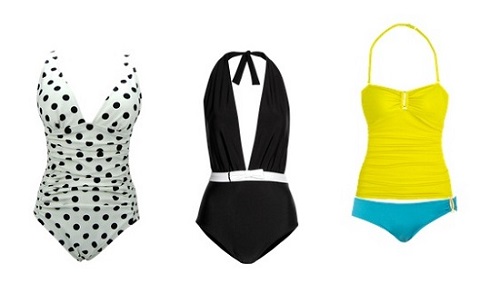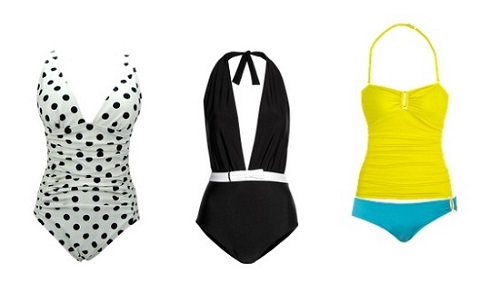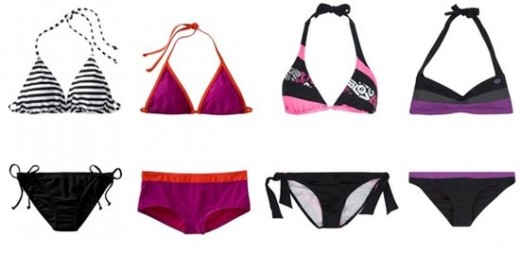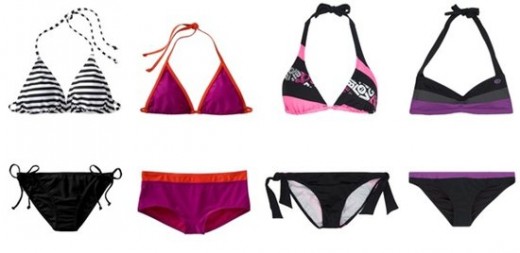 Color/Design: Print pattern on top or solid dark color. A one piece works well on your body shape.
Top: Halter or Tankini. Underwire to provide additional support. Avoid strapless bandeaus.
Bottom: Avoid tiny triangle bikini. Boy shorts work well on your body shape.
Pear Body Shape Swimwear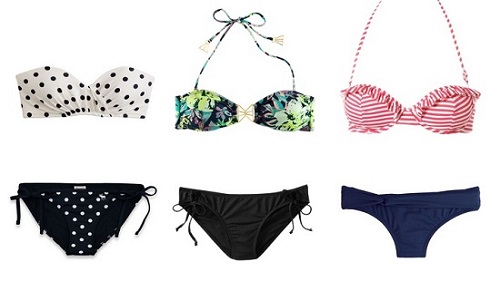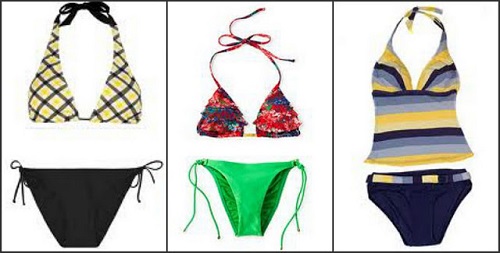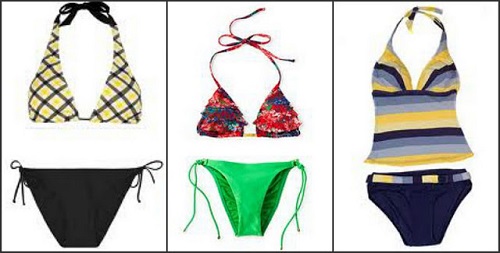 Color/Design: Dark color for the bottom, bright and fun pattern on top. Avoid a one piece.
Top: Print on top. Halter, push-up or tankini.
Bottom: High cut full bikini, tie sides. Never wear boy shorts.
Hourglass Body Shape Swimwear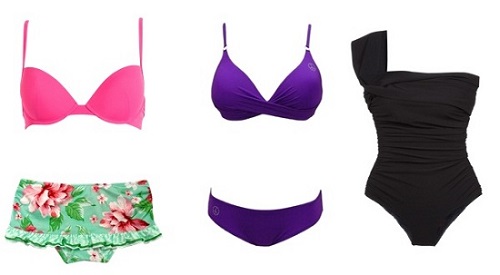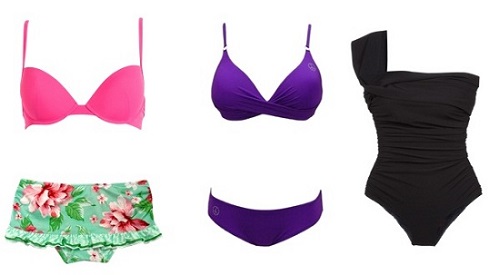 Color/Design: Most patterns and designs look good on you.
Top: Halter or underwire for additional support.  Avoid tiny triangular and strapless bandeaus.
Bottom: High or low cut bikini with tie sides or boy shorts.
IMPORTANT TIPS:
Wear bright colors or patterns to draw attention to a feature of your body which you like.
Wear a solid color to hide a feature you don't like.
Wearing bright colors can actually be more flattering if you have dark skin.
Wear black or deep jewel tones, i.e., dark purple, navy and maroon if you have pale skin.
If you want to add volume choose a swimsuit with ruffles, in that area (bust or hips), to add additional volume.
Wear shirred or ruched fabric to hide volume (such as on the waist).
Be brave and

buy separates that don't match perfectly!

  To highlight your bust, but draw attention away from your hips, buy a bright solid or patterned top and a bottom that is a dark color such as black, navy or brown (depending on the top).
Swimsuit sizes tend to be very different from other clothing. In some cases, you might go up one or two sizes in a swimsuit without it meaning anything, other than that the swimsuit fits you better.
Swimsuits tend to enlarge a tad when wet, so make sure that yours is not already too large when you purchase it. You absolutely don't want to lose it when you dive into a pool! It can also cling unflatteringly in wrinkled rolls when wet if it's too large, giving the impression of extra weight.
This article is dedicated to my mom, Audrey.  She was blessed with an hourglass figure and always wore an itsy bitsy, teeny weeny, yellow polka dot bikini.
If you would like a more in depth discussion regarding what swimsuit best "suits" you, please feel free to contact me for a private consultation.  My website address is www.alltransformations.com My e-mail address is annette@alltransformations.com.