Most of us take our jobs as grandparents quite seriously, and therefore we are constantly striving to find activities that our grandchildren haven't experienced before.  Look no further than Tempe Town Lake for some fun and exercise, available every day of the week.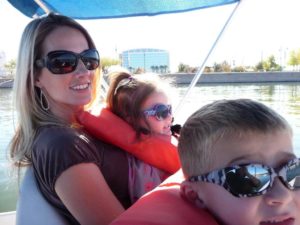 We took advantage of our daughter's winter break to head over to the pedal boats on the south shore of Tempe Town Lake.  You need at least two adults, or one adult and one grandchild who is big enough to reach the pedals.
Tempe Town Lake Rentals has both two person and four person boats available, and they have bimini tops so you won't be uncomfortable on those really warm days.
If you are not regular bike riders, one hour is probably enough.  You can let the kids sit between you (if they are small enough) and let them steer.  It is loads of fun, especially if you don't mind going in circles.
If, like us, you have little grandsons, they will be thrilled by TTL's location in the flight pattern of Sky Harbor.  Also, the view under the bridges is quite magical, with the reflection of the water painting ribbons of light on the underside of those beautiful structures.  Last but not least, the Light Rail passes over the bridge at its scheduled intervals, another reason for excitement!
The pedal boats are just one form of watercraft available on TTL.  In addition, you can rent motorized Duffy boats (electric boats), kayaks, Hydrobikes (quite a sight), and SUP, which stands for Stand Up Paddling boards. I doubt that kiddos under ten could manage the SUP's, but they would be entertained watching you try to stay vertical on one.  Just a little hint regarding the aforementioned SUPS: speed is your friend, paddle as fast as you can while you are learning that skill.
If You Go:

Tempe Town Lake Rentals 72 W. Rio Salado Parkway Tempe, AZ 85282 P 480.303.9803 M-Th 10-6 ; F-Sun 10-7 boats4rent.com/tempe-town-lake Boat rentals start at $15 per hour  

Where to grab a bite:  Bison Witches

  GOTG Tips:  Bring sunscreen and sunglasses – pack light but bring a jacket
Be sure to take advantage of other activities at Tempe Town Lake.  Check their calendar of events often, and don't miss sampling the fare at Mill Avenue's many fun eateries.  We chose Bison Witches, which has some incredible soups and sandwiches. They also have an amazing view of departures at Sky Harbor Airport.  You just can't beat it, for where else can you find grilled PBJ?