The second annual Women Investing in Women Summit was a complete success. The event was hosted in Scottsdale Arizona at ASU's SkySong on Saturday January 11, 2014.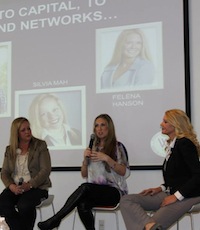 The goal of the summit is to bring women entrepreneurs together under one roof to network, educate and allow them to lend a hand to each other. Throughout the event, women were able to talk about their business and goals. They exchanged business cards with one another.
City of Scottsdale Mayor Jim Lane made the opening remarks. Mayor Lane claimed to be an entrepreneur at heart, so he was glad he was able to speak in front of a large group of women that had similar goals. He was also very excited to be part of an organization that made a positive impact on the community.
The panels of women speaking at the summit included a group of very successful women entrepreneurs. Each woman was able to share some of her background and how her business started. Those in the audience took good notes of how these ladies were able to make it to the top and create such successful businesses.
Sharon Lechter, the very well known author, accountant and philanthropist gave an extraordinary speech about creating success. She made it very clear to everyone in the room that one of the keys to success is asking for help. "You need to get the help you need to get where you want to go," said Sharon Lechter.
The moderators of the summit wanted to make sure that no person left the room without feeling that they got a great education, connections and had a lot of fun. By looking around the room throughout the event, it was clear that every person in the room left with information that will follow them throughout their path towards launching or growing their business.
If you weren't able to attend this summit, don't worry, there is already talk about the one for next year. You can also go to Women Investing in Women's Facebook page for more information on upcoming summits across the nation.