The Women Investing in Women Dinner was hosted at The Sanctuary in Scottsdale Arizona. It was a perfect way to network and mingle with successful women before the 2nd annual summit happening today at the ASU's SkySong.
More than 40 powerful women filled the room. The night started with some cocktails, followed by dinner and desert.
Anu Bhardwaj, the founder of Women Investing in Women Institute made everyone proud as she shared her thoughts about women and the difference they could make in the world if they could just get the right amount of support.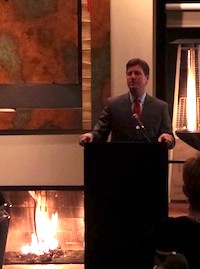 City of Phoenix Mayor Greg Stanton was one of many to speak at the lavish dinner. Successful women of different careers and backgrounds shared their stories and accomplishments.
The night was full of inspirations.Powerful words of encouragement were shared amongst all the women. It showed what Women Investing in Women was all about. Lending a hand to women around us that are in need.
If you were lucky enough to score some tickets to the big event, you'll be in for a treat. Those of you that weren't able to snag your ticket for the sold out show, stay tuned… we'll tell you all about it here.