Danielle Hampton is a successful Arizona mommy blogger. She takes her viewers through her life with beautiful pictures and entertaining, thoughtful prose. Her blog, Sometimes Sweet, has over 7,800 subscribers in Google Reader alone and was recently mentioned in Forbes Magazine as a notable blogger.
Hampton moved from New Jersey to the suburbs of Phoenix with her family when she was a teenager. She remained in the state to receive her BA in English Literature and her Master's of Education from NAU in 2006 and, shortly thereafter, began to teach high school English.
Hampton launched Sometimes Sweet in November 2008 and it has seen a tidal wave of success. She writes about her life as a now stay-at-home mom and the adventures her and her family go on. She also includes fun segments, such as "Tattoo Tuesday," as Hampton herself has some beautiful artwork. She is currently working with method, a cleaning and home products company, and the new products they will be launching.
She now lives in Northern Arizona with her husband of four years, Hank, and their 19-month-old son, Henry.
How did you get the idea for Sometimes Sweet? 
I've always been a writer and after seeing more and more of my friends make the switch from LiveJournal to Blogger I decided to do the same. It seemed like a more "grown up" version of the online diaries I was accustomed to and I thought it was a perfect time to start fresh as I had just gotten married that summer and was so excited about all of the NEW in my life.
How did you come up with the name? 
How "Sometimes Sweet" came about is a funny story — I was brainstorming names with my husband and we were stuck. He asked me to describe myself in three words and the last word I chose was sweet. He replied with a teasing "sometimes…" And the name was born!
How has the blog changed since you first started?
I would say the biggest change was that in the beginning I was writing to myself really. I didn't have an audience outside of the couple friends that stopped by now and again. Things change when there are tens of thousands of people reading what you have to say. I try to really stay true to myself, but at times I find myself holding back a bit more because I know there is such a large audience, and that can freak me out from time to time! But overall it's remained pretty much the same — just me, writing about my life. My life sure has changed (marriage, having a baby, leaving my job as a high school English teacher to become a stay-at-home mom), but with that comes new stories and adventures to share on the blog.
So many people have blogs; what did you do to gain an audience and become so successful?
This is question that's asked a lot, and I always wish I had a better answer. I honestly didn't do much — I just kept writing for me, sharing my story, and as time went on, more and more people wanted to read about it. It helps to be on social networking sites like Twitter, because you can connect on a personal level with your readers and online friends.
Do you have advice for women who are beginning to blog?
My biggest advice would be to write for you. Like attracts like, so if you are being true to what you believe and writing about what you love, you will attract readers who are just like you! Be sure to be genuine, and don't fall into the trap of blogging about certain things because that's what everyone else is doing. Be consistent. Be real. And make sure your blog is a beautiful place where you want to write.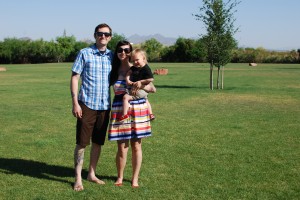 Do you have blogs that you look at on a daily basis?
I do have quite a few blogs I look at everyday. I honestly couldn't even begin to pick favorites there are so many so I'll share the last five I looked at via Google Reader! Katie's Pencil Box (www.katiespencilbox.com), Emily Frame/Ruffling Feathers (emilyframe.blogspot.com), Bleubird (bleubirdvintage.typepad.com), Little Chief Honeybee (honeybeeinthecity.blogspot.com), and Harper's Happenings (www.harpershappenings.com).
How do you decide which parts of your life to blog about and which to keep to yourself and your family?
It might sound weird but I'm actually a pretty private person so I try and keep a lot of things to myself and my close circle of friends and family. The blog is really just a snapshot of my life — smaller pieces of the big picture, things I want to put out there, so it's definitely not everything that is going on in my life, all the time. At times I'll share various stories or deeper posts, but I try to make sure there is never an "overshare" happening. I am also very aware that what I put out there can possibly affect Henry in the future, so I take care to respect his privacy as an individual as well.
Do you ever think about going back to teaching after Henry gets a little older?
Although I do miss teaching from time to time, I feel so fulfilled staying at home and taking care of my family. Even when he's older I feel like there will be things for me to do — be a support system at home, take the kids to school, eat bon bons on the couch — just kidding! — Et cetera. As long as I enjoy it and we are able to do it, I'll stay home.
How do you fit your popular blog into the your busy family life?
I try to blog at night when Henry is asleep and while my husband is busy at band practice or at the gym. I also take full advantage of nap times and Sunday evenings, and the option to schedule posts in advance. With some planning it isn't too bad and I find more than enough time to make it work.
How were you approached by method?
method emailed me about this opportunity and I was definitely excited. I love method and thought it would be great to work with a company I actually already use in our home! I work with them to promote their new products and launches, most specifically their "method of the month" campaign, which introduces a new (awesome) video each month, along with their featured monthly product.
What was your first tattoo?
I got my first tattoo when I was around 21. It's a Kurt Vonnegut quote, "Everything was beautiful and nothing hurt," on the lower half of my back. It's from one of my favorite books in high school, Slaughterhouse-Five.
Do you have a favorite tattoo?
My Henry tattoo: his silhouette and name!
What's your favorite part about being a mom? 
Ahh, how can I pick?! Everything. But if I had to pick one thing it would be the way he looks at me: that unconditional love. I think my heart melts a little more every single day.
Read Hampton's blog at www.sometimessweet.com.