How to Avoid Overeating for the Holidays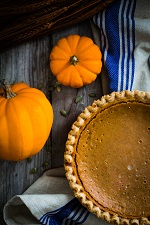 Winter is creeping up on us in Arizona
— the weather doesn't reflect it until too late! Before we know it it's too chilly for shorts and all we want to eat is comfort food.
While creamy soups, hot sugary drinks (can you say PSL anyone?), warm desserts and champagne may sound like exactly what we need for this time of year, the consequences of comfort food are very real.
Before we realize it, there will be three casseroles on the table for Thanksgiving and you will be walking that tightrope between a desire to disregard all past healthy choices you've made and a will to control your portions.
Here are some tips to avoid a food coma this holiday:
Always eat breakfast. There seems to be this universal (bad) idea that if one skips breakfast, it leaves more room for food later and since you would be skipping a meal, the calorie count would balance out. This is not true. Studies show eating breakfast can help with portion control throughout the day, and people who eat breakfast often weigh less than meal skippers.
Plan your meal in advance. Have you been waiting all year for your mother-in-law's famous dessert? Think about what will be at your holiday spread this year and only go for the dishes that bring you joy. Don't suffer through mediocre sides just so they get eaten.
Little bites of everything add up. If you are the person who will pick and pick at food all day until the actual meal arrives and you're not hungry—time to rethink your strategy. Drink some water, take a walk, watch a holiday movie, or do something productive to prevent yourself from snacking your meal away. Sitting down and enjoying an actual meal will be much more satisfying.
Food is one of the best parts of the fall-winter season, but don't let it dominate over your holiday spirit. Cookies, hot cocoa, and warm comfort food are all fine in moderation. Thinking about what we consume not only benefits our health, but we will feel better about ourselves when we're not so stuffed we break out the stretchy pants.