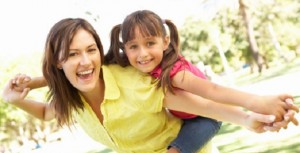 Mother's Day is set aside each year to appreciate the oldest and perhaps most prevalent role in our culture, motherhood.  Moms are called upon to raise children, run households, be a neverending source of entertainment and diversion for kids, and address issues that no one else seems to be able to handle.
Moms contribute so much to our upbringing.  They can serve as a sympathetic ear, a strong back, a willing taxi driver, an expert manager, a source of wisdom, a cheery voice, and a world class problem solver.
But one of the most important jobs that lands on Mom's list is to oversee the family health and wellness.  Mothers tend to have an intuition, a sixth sense about what's right for their families.  Often, the mother decides what the family eats, which activities are too dangerous to risk, and which doctors the family goes to.
This is why it's important for mothers to understand the value of chiropractic care for themselves and their families.  Often, when Mom begins her own spine and nerve system care with her chosen chiropractor, she opts to bring the children in for a check-up, to be sure that there are no early problems brewing, and sometimes even insists that Dad has to come in to get checked too.
Why do moms tend to care so much about bringing the family in for chiropractic care?  Because mothers inherently know what's good for their family, and keeping everyone healthy is far better than waiting to get sick and then trying to get better, which can be inconvenient, costly and painful.
It's more logical to stay well than to have to get well, so moms all over the world bring their families in for regular check-ups and chiropractic adjustments when necessary.  Faced with ongoing family decision-making, they usually just naturally know the right thing to do, so if you want to know about health, ask Mom!