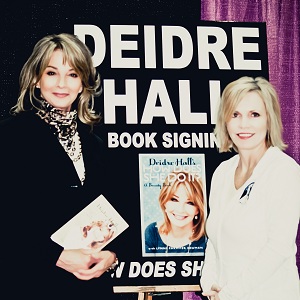 I remember growing up and watching shows like Batman, Superman and so many other of the male super hero shows that dominated Saturday morning.  It was a pleasant surprise for me when I happened to stumble upon Deidre Hall and Judy Strangis starring as Electra Woman and Dyna Girl.  Up until then women were mostly portrayed as mothers and daughters but rarely had roles as strong independent women.  They were simply extensions of the starring males.
I didn't see Deidre again until I was in high school and saw her portraying Dr. Marlena Evans in Days of our Lives on NBC.  Once again she played the intelligent strong woman which, I have to say, was still pretty rare in the late 1970s.
I recently had the pleasure of reading her new beauty book with co-author Lynne Parmiter Bowman called How Does She Do It?  I, like many other women, have devoured every how to beauty book on the planet consisting mostly of regurgitated tips we already know.  This book, however, is different on so many levels, it's not only funny, engaging, and practical, but also is a great story between two life-long girlfriends.  I was so impressed with the book that I set out to get an interview with Deidre Hall.
I met Deidre and her BFF/co-author, Lynne, at the Arizona's Ultimate Women's Expo this past weekend and was able to interview Deidre for SmartFem magazine.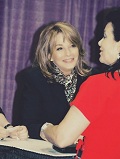 As a member of the press I meet celebrities all the time but it's rare that after spending time with them I become more impressed.  It wouldn't be right to start off this article without discussing my first encounter with Lynne, her co-author and friend.  It was clear to me right off the bat that these women are not only co-authors and partners, but that they are best friends.  Lynne looks out for Deidre and I would be remiss if I did not mention her or their incredible friendship which instantly reminded me of my own lifetime best girlfriend.
What impressed me most about Deidre Hall is that the strong, caring, and intelligent woman she always portrays is simply who she is.  I couldn't help but notice that close up she is one of the most beautiful women I have ever seen, and after a few minutes talking, I realized her real beauty comes from within.  She is a mom, a career woman, and a person who deeply cares about world affairs and our planet (Her book is made from recycled paper and soy ink).  She is forward thinking, conscious of our environment, and helpful to those in need such as autistic children whom she is devoted to helping in the real world as much as she was as Dr. Marlena Evans, on Days Of Our Lives.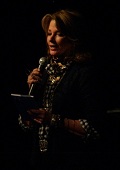 She is passionate about women and their rights and is enraged that men are still making decisions about a woman's right to make choices regarding her own body.  I was impressed with her candid nature in regards to politics and current events as well as her wit and sense of humor.  I laughed when she told me the name originally discussed for the book title was "Does this Mascara Make My Butt Look Big?'  My impression of Deidre Hall is that despite her celebrity status she is real and has the same worries and concerns that the rest of us do.
I whole heartedly recommend her new beauty book, How Does She Do It?   In fact, you should buy two copies as it's a fun, easy, and informative read that every woman and her best friend should have.
 For more exclusive photos from the Arizona's Ultimate Women's Expo this past weekend look at our Facebook Page.