The second annual Christmas in January event brought together football players and celebrities to feed the homeless.
The event was hosted at St. Vincent de Paul in Central Phoenix. Where almost 1000 meals are served every day at this single location, and approximately 4000 meals are served in all locations in Phoenix.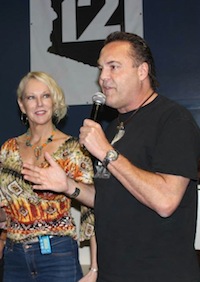 Nick Lowery, one of the ambassadors for Global Village Champions Foundation, and the president of Nick Lowery Youth Foundation has a passion for feeding the hungry. He believes that the community must come together to support this cause, and reach the goal of feeding the homeless every single day for the next 20 years.
While the community remembers to feed the homeless during the holidays, they seem to forget that they require meals 365 days a year. That is why Nick Lowery decided to take initiative in creating a program that could provide those meals to hungry people in the community.
Mia Wesbrooks, TV and radio host also shared some words of wisdom with everyone. She reminded everyone that every single day sis a new day. She was kind enough to take boxes of chocolates for everyone to enjoy after their hot meal. "When you feel you have no friends, be your own best friend," Mia said. Hinting that you are never truly alone, you always have yourself.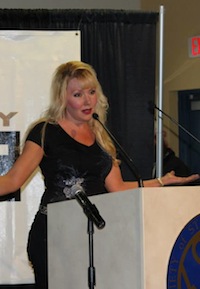 Stephen Zabilski. Executive Director of St. Vincent de Paul is very pleased at what Nick and the other organizations are doing to feed the homeless in Phoenix. Stephen believes that it is very important to let the community know what is going on, so having events like these are crucial in getting the word out.
Jimmy Walker, the founder of Celebrity Fight Night in Phoenix, is well known for giving back, and feeding the homeless is no exception. Mr. Walker visits St. Vincent de Paul every week. He reminded everyone to never give up and always stay positive.
Nick Lowery was friendly and polite with anyone that approached him. He took the time to sit down and have conversations with people. He even autographed posters of himself for individuals to keep.
When one man asked Nick if he would be at the Super Bowl, Nick replied, "I'd much rather be with you guys."