Ruby Farias, the owner of Me the Artist invited SmartFem to experience what this place was all about.
If you have never heard of Me the Artist, it is a studio where individuals are provided a relaxing environment and helpful instructions to create a special piece of art that you can be proud of. They provide everything from aprons, paint, brushes, a canvas and most importantly, great instructions.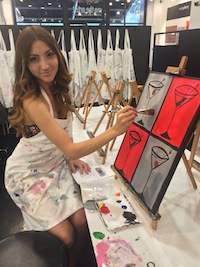 The environment was fun and inviting. The instructors are very helpful in guiding you through the process, and make it very clear that there is no right or wrong way of painting. Adding your own personal touch is part of the experience. One of the most pleasant things about this studio is the fact that they allow you to add your own personal touch of creativity to your paining.
If you think that art is not for you, think again. There is no right or wrong way of creating your painting. Me the Artist is a perfect place to start your collection of art. Trust me, you will be amazed when you take a few steps back and look at the masterpiece you have created, I know I was.
The next big event is on Valentine's Day.  The "Love is in the Air" session will include light appetizers and desserts. Make sure to reserve your seats, because they are filling up fast.
Me the Artist is also available for private parties. Get your social circle together for a special occasion, or if you prefer to meet new people, make a reservation and meet individuals like you that want to express yourself through a paintbrush and canvas.
I never considered myself an artist, but after experiencing Me the Artist, I realized that by surrounding myself with positive energy I could discover things about me that I did not know.
So if you're looking for something fun to do, make sure to visit Me the Artist. It's an experience you'll enjoy and as long as you keep your painting… never forget.