I will be the first to admit, I have coffee co-dependency. I wouldn't necessarily call it a problem because as far as I am concerned coffee is never an issue; not when you live in a city filled with local coffee shop gems! Here are three of my favorites, hand picked for very special reasons.
Lola Coffee Bar
Lola Coffee Bar's main location is amid the hustle and bustle of downtown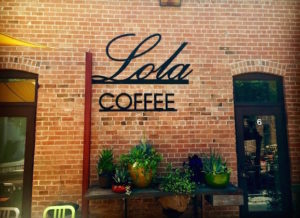 Phoenix; this quiet rustic escape is warm and inviting. Lola's offers a wide variety of coffee house classics, a selection of pastries and a build-your-own breakfast menu complete with customizable breakfast sandwiches, burritos and omelets. Whether you are just running in for a quick to-go pick me up or looking for a place to camp out morning, noon, or night, Lola Coffee Bar will do the trick with options for indoor and fully covered patio seating.
Downtown Phoenix: 1001 N. 3rd Avenue, Phoenix, AZ 85003
Hours: Daily 7a.m.- 7p.m
Phoenix Sky Harbor: Terminal 4, B Gates Pre-Security
Hours: Varied
Cartel Coffee Lab
Cartel Coffee Lab is another hidden gem; its industrial décor and bohemian vibe add an eclectic feel to the store. A welcoming atmosphere is created by the space and staff and as it says on their website, "loitering is totally allowed!" Cartel is not your typical coffeehouse though, their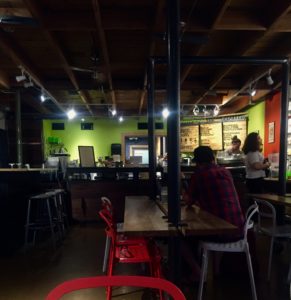 menu is home to coffee shop favorites such as mochas and lattes created with house-roasted beans, but it also contains a selection of different brewing machines so your drink will always have its own unique taste. Some locations even have a selection of craft beer. Cartel  has the potential to fulfill anyone's craving, sweet or savory, morning or night. If you are looking to try something new, different, and ultimately intriguing, Cartel Coffee Lab should be your next stop.
Scottsdale: 7124 E 5th Ave, Scottsdale, AZ 85251(Beer Served)
Hours: Sunday-Thursday 7a.m. – 9p.m & Friday-Saturday 7a.m.-10p.m.
Tempe: 225 W University Drive, Tempe, AZ 85281
Hours: Daily 7a.m.-10p.m.
Downtown Phoenix: 1 N 1st St, Phoenix, AZ 85004 (Drip Coffee & Pastries Only)
Hours: Monday-Friday 7a.m.-11a.m.
Phoenix Sky Harbor: Terminal 4, C Gates Post-Security
Hours: Sunday-Friday 4:30a.m. -8p.m. & Saturday 6a.m.-7p.m.
Downtown Tucson: 210 E Broadway Boulevard, Tucson, AZ 85701(Beer Served)
Hours: Daily 7a.m.-8.pm.
Tucson: 2516 N Campbell Ave, Tucson, AZ 85719 (Beer Served)
Hours: Daily 7a.m-10p.m.
Press Coffee Roasters
Last but definitely not least, my final favorite, Press Coffee Roasters. The Phoenix New Times "Best Coffee Roaster of 2015." Each location has a definite sense of community, with a warm-hearted spirit. Press is a diverse shop in both practicality and product: the perfect place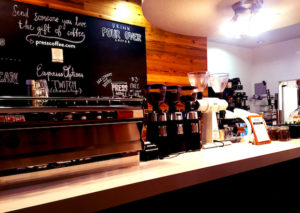 to catch up with a friend or knock out some homework. Press is a great place to indulge in a coffee or even an alcoholic beverage. Their beer and wine selection is fantastic, as well as their pastries, breakfast sandwiches and burrtios, parfaits, and oatmeal options.  Brewing gear, beans, and other merchandise are also available for purchase online.
Tempe: The Skywater Apartments 601 W. Rio Salado Parkway, Tempe, AZ 85281
Hours: Monday- Saturday 6:30a.m. -4p.m. & Sunday 7:30a.m. -4p.m.
Scottsdale: Scottsdale Quarter 15147 N Scottsdale Road, Suite 102, Scottsdale, AZ 85254
Hours: Monday-Thursday 7a.m. – 8p.m.
Friday 7a.m.– 9p.m.
Saturday 7:30a.m. – 9p.m.
Sunday 8a.m. – 6p.m.
Phoenix Sky Harbor: Terminal 4, Gate B9 Post-Security
Hours: Monday-Sunday 6a.m.-6:30p.m.
Whether you're looking to sit and enjoy the environment or just grab-and-go, all three of these local coffee shops are sure to please any caffeine lover!