There is no reason that cooking needs to be the same-old-same-old all the time! Getting creative and enjoying your time in the kitchen should make eating your creation all the better! Crescent rolls are so versatile and often forgotten about; these three recipes, one savory and two sweet, are perfect for after-school snacks, party appetizers, desserts or potlucks! Plus, they are quick, easy and most importantly, delicious.
Pepperoni Pizza Roll-ups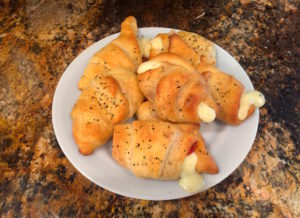 4 mozzarella cheese sticks, cut in half
1 package of mini pepperonis
1 teaspoon of garlic powder
1 teaspoon of dried oregano
1 egg
1 can of Pillsbury Original crescent rolls
Begin by combining the garlic powder, dried oregano, and dried basil in a small bowl. In separate bowl, beat the egg. Evenly space the crescent rolls on a cookie sheet. First place half of a cheese stick on the wide end of the crescent roll, followed by two or three pepperoni. Begin rolling up from the wide end towards the narrow end; brush the egg and sprinkle with spice mixture. Bake at 375° for 13 minutes and serve.  Marinara sauce makes a great dipping option if desired.
Mini Apple Pies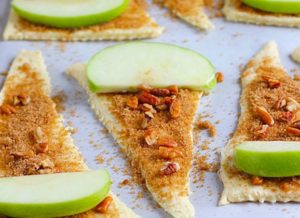 ¼ cup packed light brown sugar
½ tablespoon of ground cinnamon
½ teaspoon of nutmeg
3 tablespoons of butter, melted
⅓ cup chopped pecans
1 small Granny Smith apple, cored and sliced into 8 (1/2-inch) slices
1 can of Pillsbury Original crescent rolls
First combine brown sugar, cinnamon and nutmeg in a large bowl and set aside. In a separate bowl toss the apple slices in the melted butter. Arrange your crescent rolls on a baking sheet so they are evenly spaced, begin by placing an even amount of the brown sugar mixture on each crescent roll, sprinkle chopped pecans over mixture and finish with an apple slice. Roll up the crescent rolls around the apples and lightly brush tops with the remaining melted butter! Bake for 11 minutes at 375° or until golden, serve warm or room temperature with ice cream or on their own!
Cinnamon Twists
2 tablespoons of sugar
1 teaspoon of ground cinnamon
3 tablespoons of melted butter
1 can of Pillsbury Original crescent rolls
Start by mixing the ground cinnamon and sugar together in small bowl to create a cinnamon sugar mixture. Next, unroll the crescent dough into one large sheet, section off and divide into four rectangles (two perforated triangles = one rectangle.) Brush melted butter onto two of the rectangles and sprinkle buttered sections with half of the cinnamon sugar. Take the two non-buttered rectangles and lay them on top of the buttered ones, press the edges together tightly. Cut each rectangle into six strips, brush strips with the remaining melted butter and twist each individual strip a few times. Once twisted lay flat on greased cookie sheet, bake for 8-10 minutes at 375°.
Whether you are looking to create a fun bite sized appetizer or a scrumptious dessert, crescent rolls just may be the way to go. These tiny savory or sweet delights pack a big punch and are quite the bang for your buck!