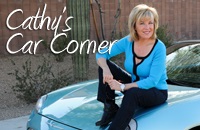 When I received an invitation from Toyota to test drive the new 2014 Toyota Highlander I was thrilled, and when I found out we would be doing so in Santa Barbara, California this winter, I couldn't RSVP fast enough.
I've been driving Toyota Highlanders for six years and have had two three year leases. I know the first and second generation make and model very well, but having seen the photos and press, the 2014 Toyota Highlander was the one I wanted to test drive.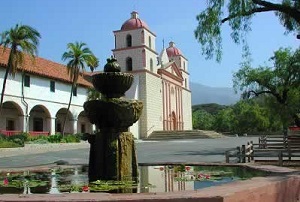 Santa Barbara is a beautiful, affluent California city, endowed with beach fronts and views, hilltop homes and remarkable "city bustle." Here is where the "who's who" of "who's who," including my favorite author Sue Grafton and actor Rob Lowe, call home. There is another famous icon that resides in Santa Barbara and that is Oprah Winfrey.  Unless you've been living under a rock or were born yesterday, you know who I mean.
I decided that I would make my 48 hour long test drive of the 2014 Toyota Highlander a mission to find Oprah in the city of mission architecture and goodwill stores  that resemble Bergdorf Goodman.  The mission style buildings, developed after the earthquake of 1925, housed everything from dry cleaners, real estate offices and Starbucks making me want to become a barista just to stay in town.
I am neither a stalker nor paparazzi, but merely curious after finding a photo of her 85 million dollar home online.  I thought how hard would it be to find a mansion of that size in a county that spans a thousand square miles and then just casually drive by?  I assumed it would be on top of a mountain and so the drive began.  And didn't everyone in Santa Barbara know Oprah, served her at restaurants, did her dry cleaning or wrapped a gift or two for her TV guests?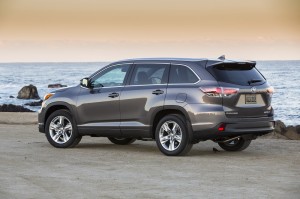 The 2014 Toyota Highlanders were lined up in perfect order on the Canary Hotel driveway.  I persuaded a fellow journalist to join me in the search for Oprah and off we went.  We drove past a number of banks thinking she might be making a deposit or withdrawal that day. Of course, we figured she had "people" who did that kind of stuff for her, but I had heard from a friend in Phoenix that her in-laws see her running mundane errands, such as grocery shopping, in Santa Barbara.  It was with this thought in mind that we slowed way down as we passed the local Ralph's supermarket, which by the way looked like a church, complete with terra cotta roof and, I swear the shopping carts were made of gold. However, we didn't see Ms. "O" at the deli counter.
The Toyota Highlander has plenty of pick up and go, as evidenced by our slowing down and speeding up while looking for Ms. Winfrey.  The new Highlander should be driven not garaged, as you need to get outside and experience its many new and exciting features. Since I already own a Highlander the changes for 2014 were very obvious to me and they start with the exterior.  Still a sharp looking SUV, the 2014 has a more athletic yet sleek look.  The grille has been redesigned and the aerodynamic roof rails were quite obvious which added to more economical gas mileage.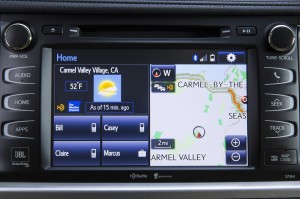 The inside is where I noticed the biggest differences. Still there is seating for up to eight, but with much roomier and reclining seats in the third row. There is an added panoramic moon roof that encompassed the front and second row of seats.  Stargazing would be easy whether it be the actual sphere of plasma or Oprah.
The enhanced technology includes specialties such as Entune™ Audio,  Entune™ App Suite, Bluetooth with streaming music and a backup camera.  The screen is large and easy to set the destinations within the navigation application. 

I typed in Oprah's house under landmarks but with no results, however it did show me where to buy her magazine "O".
The features in the Star Safety System™ consist of six active safety features that include Enhanced Vehicle Stability Control, Traction Control, Anti-lock Brake System (ABS), Electronic Brake Force and my favorite, Toyota's Smart Stop Technology.
There are five models that have an almost $18,000 difference but each one is a perfect match for an active couple or family of eight.  They include the LE-$29,215, LE Plus-$32,740, XLE-$36, 040, Limited-$39,640 and the Hybrid for $47,300, with an average of 22-24 MPG.  The Hybrid by the way is perfect for the small town of Santa Barbara where everything seemed within walking distance… except Oprah.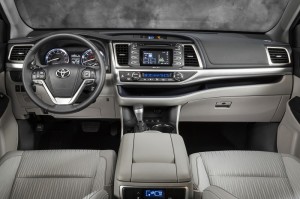 Ladies, I was impressed with the center console.  It was very different from the last generation and it actually accommodates a handbag.  I was told that engineers used a Kate Spade bag as a template for both width and height, and though I don't have a Kate Spade bag, it fit my similar sized one from Ross. Thank you Toyota for listening to "the ladies".  It also had well designed 4-inch "shelves" located under the dash and above the glove box.  You can place your keys or phone in a few places that had dividers.  Thus, when the car takes a turn or sudden stop, your accessories don't move very far.  These "shelves" were illuminated with soft ambient lighting, which was quite soothing and convenient during the evening hours.
I stayed at the Canary Hotel which is a boutique hotel and houses the Finch & Fork restaurant.  The restaurant is well known within the area, so I asked the chef if he had ever met Oprah or prepared a meal for her. He looked at me strangely and said, "No, I've never prepared a meal for her, met her or know anyone who has."  I also asked the valet, staff at the hotel, bartenders and random shopkeepers the same question.  The answer was no but they did tell me other celebrities had crossed their paths.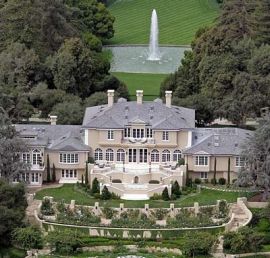 More determined than ever, we drove the Toyota Highlander to the beach, boardwalk area, mountains, the town itself, museums, missions, and even to the Four Seasons Hotel where preparations for the wedding of the "Bachelor" couple, Sean Lowe and Catherine Giudici were taking place for the upcoming weekend. I asked the TV crew if they had seen Oprah, and they just laughed.
At the restaurant Toyota took us for lunch called S Y Kitchen, which is just outside of Santa Barbara, the restaurant owner, famous for her virgin olive oil, informed me that she has tried to get her olive oil to Oprah for years but with no success. It was at this point I realized that the Highlander was my trusty side kick, and that Ms. Winfrey and Stedman need not worry about me popping in or driving by.
The new 2014 Toyota Highlander performed like a trooper through my quest to find Oprah in Santa Barbara but now it was time to leave for the airport.  I joked with fellow journalists about my journey to meet the philanthropic maven I so admired.  While on the plane to Phoenix I kidded with a couple who were on their way to San Antonio for holiday, nice folks who look like they stepped out of Vogue and personified Santa Barbara.  While waiting for our bags, a fellow journalist said goodbye to me and jokingly said, sorry you didn't find Oprah. The woman next to me asked if I was looking for her and informed me that she was at her house before Christmas in Montecito to purchase some furniture. She told me that Oprah lives on East Valley Road either at number 1633 or 1644.  I felt my heart swell and my face turn red as I said "Oh.. nice, when you get back to Montecito, please tell her I was searching for her in my 2014 Toyota Highlander and I'll catch her next trip."
For more reviews go to twofortheroadusa.com and here on SmartFem.com