It was an evening to remember for both Alice Cooper Fans and fans of the new limited edition 2015 Alfa Romeo 4C.
Some of the most well attended parties seem to hosted by Coye Pointer be at Scottsdale Airpark Dodge, Jeep and Chrysler. Back in October Coye had over 750 guests attend their spectacular 9th annual Jeep Jamboree Event.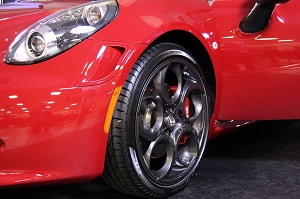 Alpha Romeo and Fiat of Scottsdale, which is co-located at Airpark, launched the Alpha Romeo event in full Hollywood Red Carpet style.  It was an evening of delicious catered food and wine along with a chance to bid on the first new Alfa Romeo 4C in Arizona and then star in the upcoming television commercial alongside legendary rock star Alice Cooper and the sleek new hand-made limited edition 4C.
The event attracted several Alfa's from previous decades parked proudly around the lot as their loyal owners came in to see the new 4C first hand. It's easy to see why car enthusiasts continue to love their Alfa Romeos. This car is so hot it's difficult to know who was the bigger attraction, Alice Cooper or the 4C!
 What impressive about the Alpha Romeo 4C is not only its looks but it's amazing specifications. 

0-60 in 4.1 seconds, with a top speed of 160 mph
Carbon Fiber Monocoque Chasis- weighing only 236 lbs
Aluminum front & rear sub-frames
Innovative Sheet Molded Compound (SMC) Body Panels
Overall curb weight of 2,465 lbs.
Alfa Twin Clutch Transmission- 6-speed automatic gearbox with 2 clutches for quick shifting.
Fully Digital TFT Driver Display
Customizable vehicle response 4- Mode DNA (Drive Mode Selector): All Weather, Natural, Dynamic or Race mode
And….34 mpg highway!
For more exclusive photos of the new Alpha Romeo 4C visit SmartFem's Facebook page.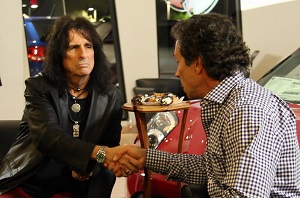 Due to the incredible demand to the be the first owner of the new 4C… Airpark General Manager Coye Pointer decided rather than accepting one of the multiple offers over the car's invoice he would create an auction to support charity. Alice Cooper's Solid Rock provides a place for at risk Arizona teens to visit free. Teenagers can learn music and dance or just to get off the streets and have a safe place to hang out.
The bidding was exciting and intense and resulted in enough money over invoice to provide a $15,000 donation to Solid Rock. Alice Cooper himself was on hand as emcee and to accept the donation on behalf of the teen center. Alice then co-starred in Airpark's latest TV commercial right there in front of the live audience with the newly sold bright red Alpha Romeo 4C and the proud new owner.
Alpha Romeo and Fiat of Scottsdale is not only the first Apha Romeo dealer in the Phoenix Valley area but also the first Alpha Romeo dealer in the western US in twenty years. They are located at Airpark Dodge Chrysler Jeep at Frank Lloyd Wright and N 78th St.