Having a big walk-in-closet is a wonderful luxury. But sometimes life graces us with closets that are small, and lacking in shelf space or hanging rods.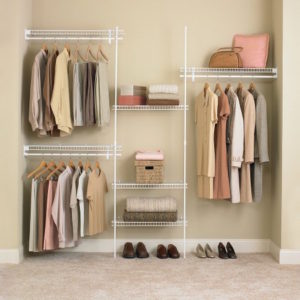 Have no fear, here are five tips for how to organize a small closet.
     Install a closet organizer
If your closet is not a walk-in, an easy and inexpensive way to provide storage and organization is to install built in organizers. These kits are usually priced around 60.00 and can be found at Target or Walmart. They provide extra hanging space, shelf space and leave space on the floor for shoe racks or storage bins.
                                                            Use a hanging shelf organizer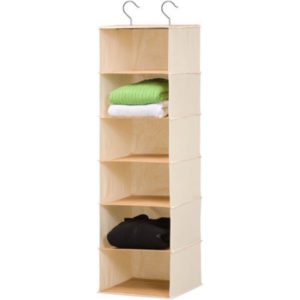 These cloth organizers hang right on your closet rod and provide extra space for folded shirts, hats, purses or shoes. I've used these for years and always find multiple uses for them. Currently, I have one in my closet that holds my baseball hats, sunglasses and clutches. These also work great for men's dress shoes because it keeps them off the floor and free of dust or scuff marks.
                                                       Free standing organizers for the floor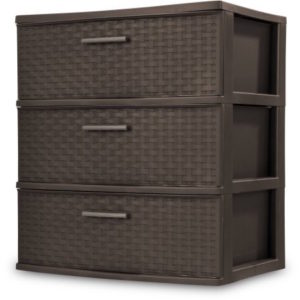 What many people forget about when organizing their closet is you can actually maximize the amount of space you have by using these great three drawer plastic bins. Setting these on the floor of your closet frees up space otherwise lost by clothing you would hang. Instead of hanging items like jeans or pants, store them in organizers like the one pictured. What I love about these organizers is they are not very tall, so you are still able to hang shirts or blouses on the rod space above.
Hang a shoe organizer on the back of your closet door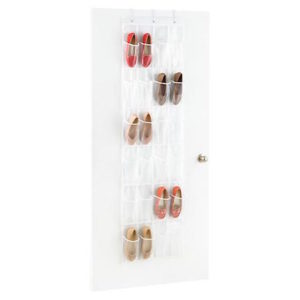 Shoes can take up a lot of space. If you have a closet door you can hang a shoe caddy from the inside to hold your shoes. Have a sliding closet door instead? Don't worry, there are shoe racks that hang from the closet rod and have compartments for as many as 12 pairs of shoes.
            Utilize the top shelf for purses and seasonal items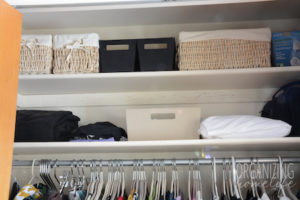 Many closets will have a top shelf that isn't so easily accessible. Because of this we often use this shelf to store items like old books, outdated electronics, or our old Caboodle. Instead of letting this shelf turn into a storage garage, use the valuable space to store your purses or seasonal items like winter coats. And organizer bins can double your space, too. Use bins that are long and narrow to store items in. In many cases you can even stack them on top of one another.