One of my newfound favorite local dishes is Fry bread. Fry bread is a Native American dish made by deep-frying flat dough in oil or shortening. It is a staple in Native American cooking and therefore it is tradition for recipes to be passed down from generation to generation and shared with all. The values of sharing and giving are emphasized in Native American culture and it is very important for cultural dishes to be preserved and appreciated. Fry bread is a food that has found a home in the hearts of all who enjoy it!
This fried dough can be used to create savory meals or sweet treats. Fry bread can be eaten with a wide variety of toppings such as beans and cheese, red or green chile, or meats and veggies. But it doesn't stop there; fry bread can be served as a replacement or substitution for tortillas and used to create fry bread tacos.
Dinner is over and now it is time for dessert. This sweet fried dough can be topped wi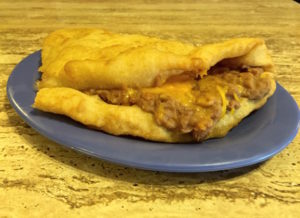 th items like powdered sugar and butter, chocolate and fruits, and even just simply, honey. This treat is a bite of sweetness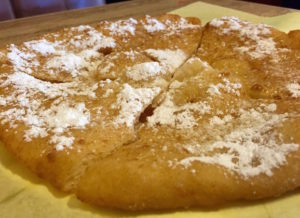 with its warm flakey texture that will melt in your mouth, resulting in a full belly and empty plate!
There are many places in the valley to indulge in this Native American classic.
Fry Bread House: 1003 E Indian School Rd, Phoenix, AZ 85014 (featured in the above images)
Arizona Frybread: 1473 N Dysart Rd, Avondale, AZ 85323
White Eyes Fresh Fry Bread: 20219 N 59th Ave #3, Glendale, AZ 85308
Emmerson Frybread Truck: Varying locations, tracking available on Facebook
Head on in to any of the above restaurant locations and give this new type of cuisine a try, it is sure to please and guaranteed to not disappoint! Whether it is sweet or savory that you crave, fry bread will satisfy your tummy with every bite.