Bruce Hurzwitz, a career counselor and executive recruiter, shared some career advice that has now gone viral. In his post, he advises a woman (who couldn't land a job) to ditch her engagement ring for job interviews. Here's the advice he gave, via his LinkedIn account: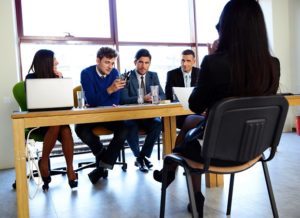 "Even though I had not been introduced to her, and despite the fact that, at that moment, I was alone with five women all of whom were wearing engagement rings, I said, "Lose the rock!" Everyone looked at me. The woman had the Hope Diamond on her finger. She, and my colleagues, asked for an explanation.When a man sees that ring he immediately assumes you are high maintenance. When the woman at the office who has the largest diamond on her finger, sees that ring, she will realize that if you are hired she will fall to second place and will, therefore, not like you. Lose the ring!"
In my opinion, this entire passage is ridiculous! It's shocking that someone could say something so sexist and stereotypical, and get away with it.
Bruce Hurzwitz advises people for a living and according to this passage, he's advising women to not do something that could potentially upset a man. I shouldn't wear my engagement ring to a job interview because a man might assume I'm high maintenance? I don't believe that! Now, there may be some men that wouldn't hire a woman based of their engagement ring — but, those are the kind of egotistical and brainless people that make the world a bad place.
Women can make their own decisions and there's nothing wrong with deciding to not wear your engagement ring to a job interview. What sickens me is that the reason you may be hiding an important part of your life is to avoid confrontation from men, and some women. Your financial situation and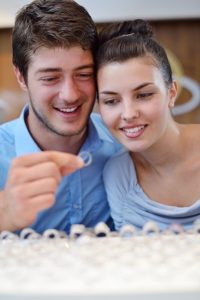 relationship status shouldn't play a role in deciding whether or not you get a job. Of course that's just my opinion!
Here are a few others:
"The fact that this is even a question to be asked is preposterous. I can understand why it might be more beneficial to not wear your ring, but what does hiding that say about your character?" – Marie, 25
"I'm not engaged, but if I was I probably wouldn't wear my ring to a job interview. In my experience, interviewers will judge everything about you in order to make a decision. They may be more inclined to hire someone who's single, instead of someone who's taken" – Kat, 29
"I became engaged, it was a gift from the man I love. Why should I not wear something beautiful that's a symbol of our love?'"- Paula, 35
"Yes, of course you should wear it. If you can't get the job with it on, you probably don't deserve the job. And who are you as a fiance to not be proud of the man you're with?"- Josie, 47
We plan to reach out to Bruce Hurzwitz in regards to his statement, more information coming soon.
Our opinions aren't the only one's — I want to hear from you! Should women take off their engagement rings for a job interview? Feel free to leave your comments here!