This Wine Station Is What Dreams Are Made Of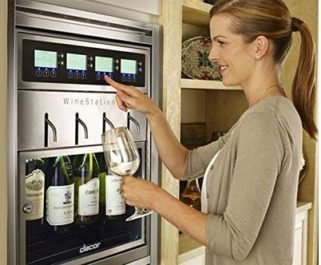 Calling all winos! The Discovery WineStation is here to make your wine dreams come true.
The stainless steel wine cooler is actually a four bottle wine dispenser, and makes hosting parties an absolute blast, both for the host and for the guest.
Designed to be either a built-in or free standing appliance, the WineStation keeps each bottle temperature controlled, and has options for the wine lover to either try a taste, a half pour or a full pour with a quick push of a button.
The Discovery WineStation by Dacor also keeps the vino fresh for 60 days while keeping the flavor and aroma intact as well.
The machine is pretty simple to refill when the time comes. Users just unlock the front glass door and remove the empty bottle.
When it's time to replace it with a new one, the user simply screws the nozzle onto the top of the bottle and the machine takes care of the rest.
The LCD screen on the front allows users to program the wine type, year and varietal for each bottle. The machine also requires no plumbing. That means it just needs a spot to sit and a wall outlet.
The Dacor Discovery WineStation retails for about $5,600, and can be ordered through Dacor kitchen appliances either online or in store through a retailer.
Reviewers of the WineStation claim the machine is easy to use, clean, and requires no hassle when changing out a bottle for a new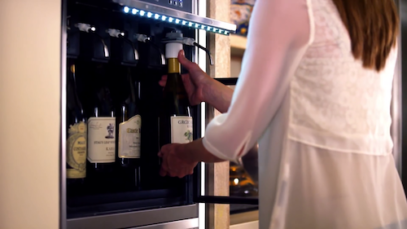 one.
The dispenser pours well and the quality is comparable to what one would find in a high-end restaurant.
Perhaps if a kitchen remodel is on the horizon, a Discovery WineStation might be the perfect addition.