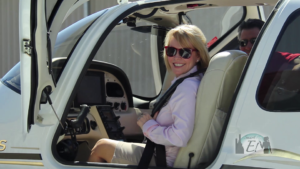 Sometimes we need to embrace something dramatic in order to change our lives to foster real personal growth. I decided to literally fly out of my own comfort zone and take an introductory flight lesson in a Cirrus SR22 airplane with Elite Flight Training in Scottsdale.
I showed up at Scottsdale Airport with my friend Debbie Gaby. Debbie hadn't flown in a small plane before and was a little nervous. Going for a flight lesson together was a lot more exciting than your standard "let's meet for lunch" time with friends so she anxiously accepted my invitation.
The comfort zone is a behavioral space where you can stagnate if you don't routinely take the risk to try something new and different. One of the things that I really loved about my flight lesson was the thrill and adrenaline rush when we pushed the throttle up and climbed into the skies over Arizona.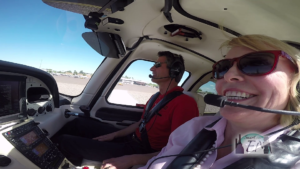 Although flying the plane was dramatic and exciting for me and was one of the most thrilling things I have ever done, I also knew I was in good hands. Chuck Lapmardo, the owner of Elite Flight Training in Scottsdale is a highly experienced FAA certified flight instructor and veteran commercial pilot who had flown for the airlines.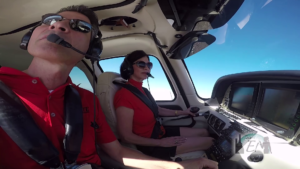 The airplane, a Cirrus SR22 built in Duluth, Minnesota, is a highly sophisticated and modern aircraft complete with similar advanced electronics and safety features found in large commercial jets. Features such as "TAWS" Terrain Awareness and Warning System and "TCAS" Traffic Collision Avoidance System which help prevent flying into mountains or other traffic in the vicinity which may be hard to see. The Cirrus also features a unique parachute system to safely bring the airplane down in the event of a serious emergency.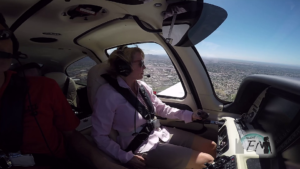 What's unique about Elite Flight Training compared to other flight schools is not only the highly advanced and modern airplanes but the experience of their instructors. According to Chuck, Most flight schools use older single engine trainer aircraft and low time instructors who are primarily interested in "time building" so they can qualify for an entry level co-pilot position at an airline. "What Elite Flight Training did was turn the table…" Chuck says. "We have very experienced instructors… to teach you how to fly, safely."
Certainly at SmartFem we take pride in only recommending the best for our readers and after meeting Chuck Lapmardo and learning about the Cirrus SR22 at Elite Flight Training right here in Scottsdale I decided I wouldn't want to learn to fly any other way.