Tears, Tito's and Letitia (Tish) Frye were the order of the evening on April 28th at the St Jude – A Night in Monte Carlo held at Hangar One in Scottsdale, Arizona. People were dressed in their best high roller accoutrements, Tito's Vodka was on-hand serving a signature vodka cocktail with spicy jalapeno limes, while guests danced to – silence?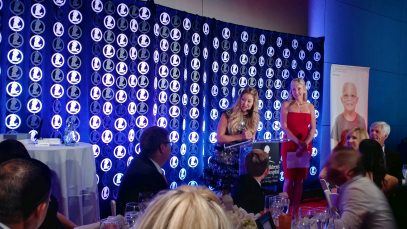 Carey Pena introducing Lisa Howland Maillard who spoke about what St Jude Children's Research Hospital has meant to her and her family. (permission Lea Woodford)
The focus of the evening was the presentation of a Humanitarian award to Letitia Frye for her decade of service to St Jude Children's Research Hospital. To kick off the evening were style and design expert Oscar De Las Salas and his co-host founder and CEO of Inspired Media 360, Carey Pena.
RELATED: A CHARITY CD FOR PARKINSON'S DISEASE RESEARCH
The food was divine, and courses were brought out between videos and speeches from people involved with St Jude, which allowed people to regain their composure, as there was not a dry eye in the house. Soon to be pediatric oncologist, Margaret (Maggie) Cupit, moved the audience with her story about being diagnosed with Cancer in college and while it turned her life upside down, St Jude Children's Research Hospital not only saved her life, but also gave her a passionate direction in her career.  "Children don't want to die in peace- they want to live!"
The star of the evening was Letitia Frye herself. Dubbed "auctionainer" by legendary rock star Alice Cooper, Letitia has raised more than $450M for St Jude charities. The award will be known henceforth as the "Letitia Frye Humanitarian Award" in honor of her selfless and unrelenting work as not only an auctioneer but a friend to St Jude children and families. It was serendipitous that she accepted the award on Pay It Forward Day, and in her speech, she shared why she became involved with St Jude and why it has remained so close to her heart.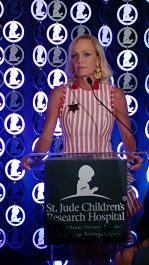 "Auctionainer" Letitia Frye- This year's recipient of St Jude Research Hospital's Humanitarian Award (permission Lea Woodford)
Letitia has experienced the loss of close family members including her boyfriend's son just days before the event. She stood strong, confident, as she addressed the captivated her audience in her jazzy, off the cuff style- full of anecdotes that helped temper the deeply emotional themes of sick children and their families with the occasional laugh and smile. No one left untouched by her message.
Related: KIDS ROCK THE RUNWAY: FASHION SHOW SUCCESS AND CHARITY CHAMPION


Following her acceptance speech was the silent and live auction conducted by the stunning and highly capable Subyn Wadsworth, a mentee of Ms Frye. Through her ninja-style auctioneering skills, they were able to raise $170K for St Jude Children's Research Hospital. A highlight of the auctions was the philanthropist and co-chair of the event, Foster Friess, buying (50) $100 raffle tickets and winning a Rolex watch, just in time to give as a gift to his beautiful wife and fellow philanthropist, Lynn Friess. The showstopper was the winning bid by Mark Holland, Letitia's significant other, for a 179-diamond necklace and a party on the Tito's bus in Austin, Texas this summer. You know I am going to be there!
The night ended under the cool, Arizona sky, with a silent disco. Three DJ's spun tunes simultaneously, while guests wore headphones and tuned into their favorite mixes while dancing in swirling Salsa flourishes next to Motown boogie hip swaying. Truly a night of celebration, and selfless giving.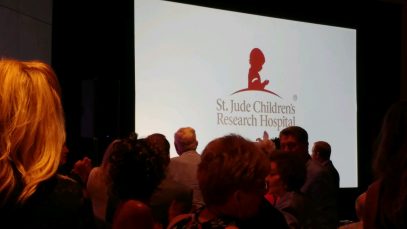 St Jude's Children's Research Hospital is a place of hope, healing and family. (Permission Lea Woodford)