Lisa Guerrero, the Award-winning Chief Investigative Correspondent for Inside Edition, can now add author to her long list of achievements. Lisa Guerrero is a multi-media star who is highly respected among her peers. Guerrero has made a name for herself in the male dominated media professions of sportscaster and investigative journalist and has also been guest host for various shows such as The View and Dr. Phil. I met with her to discuss her new book, Jewelry for Your Table.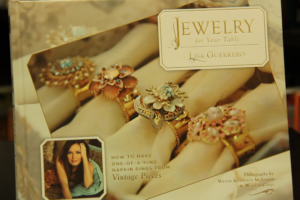 Jewelry for Your Table is a how to guide to creating one-of-a kind napkin ring sets made from vintage or costume jewelry such as brooches. In the book Lisa Guerrero describes her passion for art and how she created this to honor her own family's heritage.
Lisa Guerrero is currently on a book tour with her publisher, Schiffer Books. Jewelry for Your Table can be purchased on Amazon or in your local Barnes and Noble bookstores. The book is absolutely gorgeous and makes a perfect gift.