2013 Toyota Highlander Limited visits Casino Del Sol Resort in Tucson, Arizona with Cathy Droz.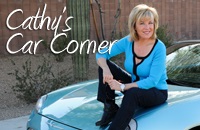 Vacations for me this summer were spent with the 30-something kids and grandkids.  I didn't fly anywhere exotic, tropical, European nor bizarre, but I did take one "girl trip" that made me feel like a new woman.  I grabbed a girlfriend, an overnight bag, a 2013 Toyota Highlander test vehicle and took advantage of a 24-hour opportunity that allowed us to visit a resort in Tucson, Arizona.    Now I know that doesn't sound very exciting, romantic or exotic but it made me feel like I was in Vegas and Italy with a little Palm Springs thrown in.
The 2013 Highlander Limited V-6 is a mid-size SUV staple for the Toyota brand, and I can see why.  It looks good enough to feel very "posh" pulling up in front of a beautiful resort deserving of the valet's attention, while also being down to earth enough to pack full of kids, luggage, sports equipment and then tow up to 5,000 pounds.  It has a third row of seating which is good for bringing along lots of girlfriends or a family of seven. The flip-up rear liftgate window provides quick access to your cargo area without opening the whole "shebang."  Critics have said that the third row of seats is good for small children only, however, I sit in the third row often (I own a 2010 Highlander) when three of my grandkids need to be in safety seats in the second row.  This 5'2 menopausal body fits fine,  without yelling it's too hot or cold back here or unable to move freely to catch the sippy cup being thrown in my direction.
The fun part of a girl trip is… there are no men, kids, pets or bosses so the six cup holders were the first thing that got thumbs up.  We filled them with necessities like two smart phones, two coffee filled foam cups and two water bottles.  If Toyota only knew they created such a feature; "girl trip" cup holders.
It was a safe two hour driving experience to our destination; Casino Del Sol Resort in Tucson, Arizona, and why wouldn't it be?  The Highlander has anti-lock disc brakes with brake assist, electronic vehicle stability and traction control systems, active anti-whiplash front head restraints, front side impact airbags, a driver knee airbag and overhead curtain airbags for all rows.  The ride was smooth and filled with great music from the sound system and it was also easy to negotiate the technology for GPS, Bluetooth, Toyota Entune and the built in back-up camera.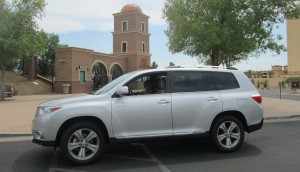 We arrived early afternoon, leisurely driving the Highlander down the long palm tree lined entrance, with the Resort Casino and Concert venue about a half mile away.   With its copper dome and ten story structure nestled in the desert, you knew you were in for a treat. Casino Del Sol Resort, which has been in existence for twenty years, recently went through a one hundred and thirty million dollar expansion which was unveiled in November, 2011. The resort is proudly owned and operated by the Pascua Yaqui Tribe and is something you have to see to believe.
If you think the entrance is grand, wait until you see the rest of the property. The interior of the resort was inspired by the Arizona landscape with the feel of traveling throughout Tuscany.  Just like the Highlander Hybrid model, the resort incorporates sustainability principles throughout.  We express our kudos to both Toyota and Casino Del Sol Resort for their commitment to the environment.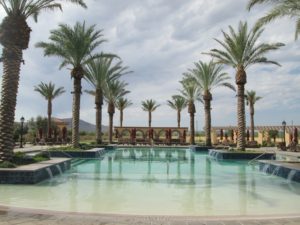 My personal experience was beyond expectations.  The Casino and resort are connected, but in the most subtle and relaxing way.  This lends itself to visitors who come just for the resort atmosphere which includes the pool, spa, top rated restaurants and concert venue.  If you didn't visit to use the gaming options, (other entrances to just the casino) you wouldn't know it was there. For example, if you booked a few days there for one of their outdoor, five thousand seat Amphitheater venues, you can walk from your room to a Tim McGraw concert.
The Highlander consistently wins awards year after year for its safety features, use of space and towing capabilities. In fact AAA has ranked the 2013 Toyota Highlander as one of the top vehicles for commuters.  The Casino Del Sol has received the AAA four diamond award, putting both the Highlander and the Resort at the top of their respective categories as noted by the most prestigious ranking in the world.
As for the "girl trip" part of our visit, we did plenty… enjoyed the staff and spirits at the Prema Lounge, had the best steak dinner at PY steakhouse, breakfast at Moby's, manicure at the spa, listened to some great band music, strolled the casino nooks and crannies with ceilings frescoed  like Caesar's Palace in Las Vegas.  We ended our visit with a fun tête-à-tête with CEO/CFO James Burns who welcomed us upon our arrival and wished us ladies a safe trip back to Phoenix.  He treated us as if we were guests in his home, and that's what I look for in a resort.
2013 Toyota Highlander Limited

Engine: 3.5L V-6
Power: 270 @ 6,200 rpm
Transmission 5-speed Auto
Seating: 7
Cargo 95.4 cu.ft.
MPG – l7 city 22 highway
Invoice on Test Vehicle: $40,863
Casino Del Sol Resort, Spa and Conference Center

Rooms:  215 – Meeting and Convention Space: 65,000 Square Feet
Concerts: Anselmo Valencia Tori Amphitheater (AVA) 5,000 seat open air Amphitheater on premises.
Ballrooms:  18,000 square feet of ballrooms ( breakout to five or more)
Golf Course: 18 -hole designed by Native American PGA player Notah Begay III
Water Activities: Beach Pool, VIP Cabanas, Fountain light shows, Kids area
Restaurants: Seven Restaurants Five Lounges
The Highlander was perfect for the two hour trip both there and back and easy on the eyes for posing at the resort. Casino Del Sol Resort was such a great experience and that is without a dip in the pool or a round of golf.  I know I will be back very soon to play golf and I'll be sure to take a Highlander to fit clubs and luggage for a longer stay.  Not sure if I will bring my husband or make it another "Girls Trip".

For more reviews go to www.twofortheroadusa.com