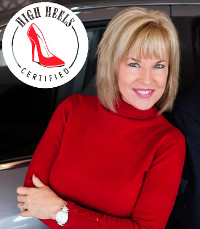 A 2014 PROMASTER by RAM makes an excellent choice for your business.
Starting your own business can be fun, exciting and liberating.  Starting a business, depending on the nature of your passion, can also involve many extra expenses.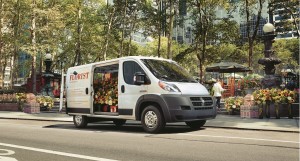 Usually it involves supplies, insurance, employee salaries and many times one or two commercial vehicles.
My girlfriend Silvianne, and her husband Hans, are quitting their very lucrative jobs and purchasing two BBQ restaurant franchises.  Besides the cost of such an investment, they will need commercial vans for the catering end of the restaurants.
Silvianne called me to see if I had some thoughts on a good cargo van for their food business (catering all over Temecula, California).  They asked me a lot of questions; the most important one was the unfitting of the van.  I use the word unfitting but you might call it the custom design of the van to accommodate their particular business needs.  This is an important concern as all vans are not created equal.
The first thing that came to my mind was the RAM Promaster Cargo Van that I have seen and tested at Airpark Dodge Chrysler Jeep in Scottsdale, Arizona.  They refer to it as the most upfitter-friendly brand in the truck market.  Its payload capacity is 4,400 pounds and has more than 35 active and passive safety and security features.  The maximum towing capacity is 5,100 pounds… now that would be a lot of BBQ.
There are so many pros to the Promaster I dare only mention a few that might be of interest to the future catering entrepreneurs or florists, utility professionals, glass replacement specialists or your favorite plumber.

Class 2 – Cargo, Glazed, Chassis Cab and Cutaway
Fuel Capacity – 24-gallon tank, standard
Gas: 3.6L Pentastar V6 gas engine, with 280 hp and 260lb-ft of torque with 6 speed transmission
Diesel: 3.0L in –line 4-cylinder EcoDiesel with 174 hp and 295 lb-ft of torque to automated  manual transmission
Various Treatment: Windows all around, side only, rear only and solid panels for side and rear for added privacy and security
Air Bags: Six standard
Camera:  Rear back up camera
5-year/100,000-mile powertrain limited warranty
Starting about $26,000
Now here is the part that is so much fun… configuring the van the way you want it.  The Ram Promaster offers the consumer unprecedented range of conversion possibilities, resulting in hundreds of possible configurations.  The RAM Promasters offer three wheelbases, modular construction, front-wheel-drive engineering and easy walk-through from cab to cargo area. Their trademarked U connect, and a great design, can make owning a van and running your business a one stop shop.
For more details on the 2014 PROMASTER Commercial Vehicles by RAM go to www.chryslercommercialvehicles.com.

You can also call or visit Airpark Dodge Chrysler Jeep at 7801 E Frank Lloyd Wright Blvd in Scottsdale.  866-393-8860
U Connect from Chrysler is how you can operate your company from your van.  It's all about staying in touch with your employees and clients, suppliers and colleagues.   There is voice command, navigation, voice free text messaging etc.
There is more!!! On the job incentives assist you in purchasing, customizing and servicing your business vehicles.  Here a few of the allowances available.

No extra charge 2-year Gas/Diesel Lube-Oil-Filter Service
Up to $1,000 Commercial Graphics Allowance
Up to $1,000 Equipment /Upfit Allowance
All-new Bosch Power Tool Packages
Just like on the Television infomercials… "But wait, there is even more…"
Because Chrysler understands the small business owner's challenges and budget, they offer their BuisnessLink package for that small business-man or woman.

Complimentary membership, no dues no fees
Priority next-available bay service for your business vehicles
Extended service/repair hours
Fee loaner for selected vehicles
Fee shuttle service
ON The JOB incentives
An inventory of commercial vehicles
Expertise in commercial financing options
24/7 towing service available
BusinessLink Account managers will come to our place of business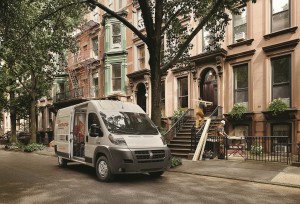 A RAM Promaster Cargo Van is easy to drive and park and it happens to be a very good looking van as well. The interior is that of the Promaster Cargo Van not of a Dodge Viper, but it's exactly what commercial van buyers are looking for.
I suggested my friend, Silvainne wrap the van with the $1,000 incentive money and design the inside as cleverly as she has her home and her closets.  I climbed in and out of the van with no problem and I'm only 5'2.  It really looks and feels as strong as its RAM logo and Chrysler's backing in the industry.
I think my friends Silvianne and Hans will go for the RAM Promaster and I plan on taking free BBQ as a thank you gift for introducing them the perfect cargo van.