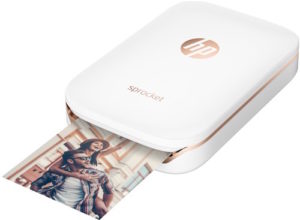 In today's world of all things technology the latest and greatest gadgets have made leisure photography easier than ever, and with the HP Sprocket Photo Printer, printing photos is cool again.
The new gadget released by Hewlett-Packard late last year is the new portable, pocket-sized printer that prints out 2 x 3″ snapshots or sticker photos straight from the user's smartphone.
The mini printer uses HP Zink photo paper which is smudge-proof, water-resistant, and tear proof, according to HP's website. The printer is also said to print out vibrant photos despite how compact it is.
The printer works wirelessly through the user's smartphone and connects via bluetooth. The user will then have to download the HP Sprocket App via the App Store.
Once the smartphone notices the new device and is connected, the printer is ready to print photos from the smartphone's photo library or photos on social media.
You can even edit photos, add emojis, or add a frame before printing. And in case you want to take a fresh new pic, just go to the camera setting, snap a photo, edit and print all in one sitting.
Reviewers on the Best Buy website rated the little printer with mostly positive reviews. It averages a 4.7 out of 5 star rating.
Those who positively reviewed the product said it was a fun and easy printer to use. It worked well and printed decent quality photos. Some users liked that they could document their travels and vacations in a fun and unique way.
Those who gave the printer a lower rating mainly noted the printer's photo quality, saying the printer won't produce studio-quality prints.
However, this is to be expected as the printer is geared more for leisure photography and not intended to be used as a replacement for a professional-grade photo printer.
The Sprocket comes in black and silver or white and rose gold and is available for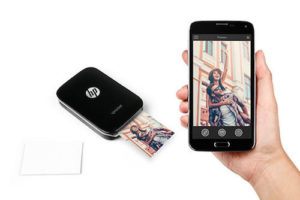 purchase at Best Buy for $129.99.
It's rechargeable and comes with a USB port charger. It also doesn't use ink because the photo paper has the ink built in. The printer also comes with ten sheets of photo paper.
Additional photo paper is sold separately and retails for $9.99 for a pack of 20 sheets. Each piece also has the sticker backing.