3 Wardrobe Staples You Can Find at Any Thrift Shop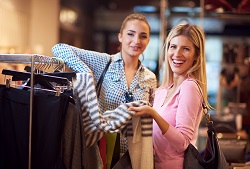 It can be overwhelming to shop at a resale shop if you have never done it before. There are so many racks of clothing it seems impossible to get through. Whether it's Goodwill, Buffalo Exchange, Plato's Closet, or even a vintage thrift store, here are 3 key pieces that you can find almost anywhere at any point in time:
Sport leggings- Now that it is 2018, people are starting their year off right by working out more. Instead of dropping hundreds of dollars on name brand athletic wear, check out your local thrift shop. From lululemon to Adidas, there are almost always great quality pieces available.
Black heels– Every thrift store I have ever been to has dozens of pairs of heels. If you need a black pair for when the occasion strikes, find it at a thrift store. Not only will it likely be 50 percent of what you originally willing to pay, many of the shoes resale shops take are in amazing condition. Keep in mind, they don't take what they know won't sell.
Denim jackets- While Winter is nearly over in Arizona, a denim jacket is an important staple in every wardrobe. The beauty of the denim jacket is that it is so versatile. There is a frame for everyone in this throwback style. Someone is always getting rid of their old denim jacket for a new and improved one. Find yours at your nearest Goodwill!
Denim jackets, black heels, and sport leggings won't get you through the entire year, but it is a great start. Even if you ask someone working at the store for one or two of these things, it is likely they have an entire section dedicated to these wardrobe must-haves.