Record highs greeted the valley quite early this season, which is causing the fashion enthusiast in me quite a bit of distress. Triple digit temperatures are quite a conundrum for business-chic ensembles and typically leads to one agonizing question: How does one continue to look stylish yet professional when the moment they step outside or even near a sun-glaring window they break out in a sweat?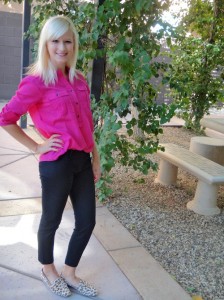 All I have to say is thank you fashion gods for inventing the lightweight fabric known as linen! This work appropriate textile is not only airy, it lets breezes flow through easily and has a great texture suitable for matching with many fabrics.
I recommend incorporating linen into your work-day through blouses. I picked up this cheerful pink pop-over just a few weeks ago and it has saved my life. This can be work tucked into a simple pencil skirt or untucked with a pair of trousers. The sleeves can be rolled and scrunched different ways to add versatility and of course jewelry and scarves are also easy additions to really take this simple outfit to a new level.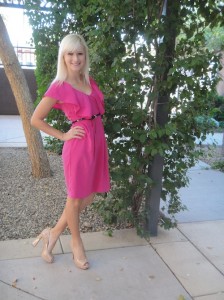 Who doesn't love a fabulous pair of open-toe heels? Patent shoes may sound like a death sentence with the outrageous heat, but if you opt for a pair that is open-toed you would be surprised with how cool your feet will look and feel.
Of course you may be worried that patent leather is only for nights out and can be a little too over-the-top for a day of meetings, but neutral patent heels are a combination of super hot with demure, and are practically begging you to throw them on. A great look to try with them is a nude, lace a-line dress that is appropriately hemmed barely above the knee. Just remember to keep hemlines longer when wearing patent heels to keep the outfit from becoming fit for a night on the town.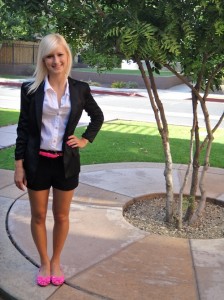 Blazers are no longer only to be worn with monotonous pantsuits! The advent of boyfriend blazers marked the beginning of their new reign in fashion, from nightwear to business-wear, the versatility of a blazer is your new best friend.
Yes, blazers can be seen as too warm for Phoenix's temperatures, but if it is paired with a light, summery dress or a sleeveless blouse you cannot go wrong. Another great way to wear a blazer is with dress shorts. Wear is with a pair of sleek black shorts and a silk, sleeveless blouse and you are surely going to look chic while also balancing the heat. Be sure to not wear too high of heels with this look and to keep the accessories simple, let your legs do the walking and talking!
So head over to your closet and spruce up your simmering work outfit by swapping in a few cool items that will leave you fresh and able to conquer the day!