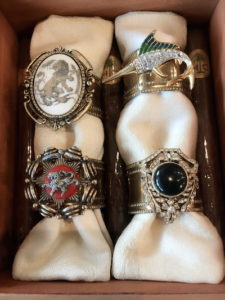 As the holiday season comes into full swing, Scottsdale elite gather for a shared stories, tea and conversation in the warm of Evans Furs.
"Generation to Generation" became the theme for an elegant afternoon tea and fashion show as antique met chic, where Chief Investigative Reporter for CBS-5's Inside Edition's Lisa Guerrero introduced her craft table book, "Jewelry for Your Table."
Guerrero's elegant book signing was wrapped in luxury as tea party goers enjoyed sweets and conversation.
Guerrero shared with SmartFem her inspiration for the glamorous book saying, "I like to shop my own closet, and then give them away as presents." Guerrero is referring to the staple in her coffee table book, handmade vintage jewelry, turned into napkin holders.
"The book is really about giving back to your community and giving back to your heritage. "It's not a how to book," said Guerrero.
As esteemed guested passed around the furs and jewelry, the conversation around the morphed into one about generations. Many guests shared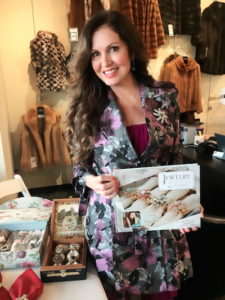 about their love of antique furs and Guerrero shared that her book and first ever napkin holder came from her own grandmother's antique broach.
Evans Furs has been in the valley since 1987 bringing an delicate and traditional fashion to Arizona. The timeless beauties of broaches and furs were perfectly paired for the event.
Michelle Parkhurst, General Manager of Evans Furs spoke with SmartFem about the event saying, "It was a lot of fun to meet Lisa, this brings together good people who are involved in the community. Really, it's about Christmas shopping, enjoying the food and seeing old friends."
The event allowed community members to shop for special vintage finds while letting out their own creativity.
"It's another way to thank the people who are involved in the community," said Parkhurst. Her thoughts were echoed by Guerrero when she spoke about the importance of her book and the inspiration it can give to others.
"The book will inspire you to find something in your life to connect you to your heritage and find beauty and peace in your lives." Closing her book signing Guerrero said, "I hope you can become inspired and re-connect to the beauty of past generations."
As the party came to an end, guest lingered as they enjoyed new and old friends. They tried on furs and discussed their own inspirations and favorite crafts with Guerrero.
If you're looking for a unique Christmas gift this year, why not check out Lisa Guerrero's book here, or shop at Evans Furs here!