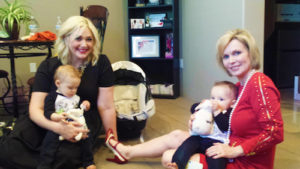 I have had the pleasure of meeting Morgan Cooper a number of times at her famous family's charity events. She is daughter-in-law of Alice and Sheryl Cooper and is married to their son Dash Cooper.  Morgan is an amazing, beautiful young woman in her own right and I was excited to sit down and talk to her about her new company and ask her how she managed to juggle it all. For those of you who don't know Morgan and Dash have eleven month old twins Riot and Falcon.
This was a refreshing break from my usual morning interviews as she brought her little mini-Coopers Riot and Falcon. In addition to being a busy mom she manages to be a doting wife, philanthropist and most recently a designer of a new baby t-shirt line for twins. She rushed over to see me today after filming an interview with Fox. Watching her manage her life and schedule with babies in toe was pretty incredible. Here is an excerpt of our interview…
Lea: Morgan, what inspired you to start the business?
Morgan: " My boys, I couldn't find what I was looking for, I wanted something fun and trendy for them and didn't want to put them in plain white t shirts."
How difficult is it to be a mom, design and all the while trying to keep up with your famous family?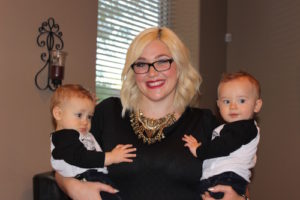 "It takes a village… There are five of us in order to make everyday work. It's crazy but exciting and I am happiest when I am busy and productive. My Cooper family has been incredibly supportive and have provided me with some of their resources."
What is your biggest challenge?
Time.. fitting everything in and finding a balance between family, friends and time for myself. I barely have time for a shower… I also wanted to do something creative that would complement the Cooper family but still stand alone.
Can you tell us about your upcoming event?
Absolutely… My baby t line will be featured this Saturday at Kids Rock the Runway on Saturday the 17th from 1-4pm. The event is being held at Alice Cooper's Solid Rock Teen Center located at 13625 N. 32nd st. Phoenix AZ 85032. The admission is $15.00 and proceeds go to the teen center. The Solid Rock dancers and bucket brigade will be performing and my baby line Double Scoop will be featured along with the fashions of Cheeky Chic Boutique.
Where can people buy your baby Line?
Currently my baby line is being featured exclusively at Cheeky Chic as well as on my website www.scoopbymorgan.com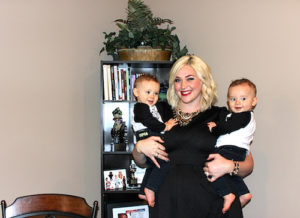 Any words for other aspiring "mompreneurs?"
Make time for what you want. I don't have much time but I want my boys to see me build something. I want them to see me as more than just their mom. I guess my advice is don't lose who you are while being a parent.
What I really enjoyed most about my time with Morgan is that she is the girl next door, smart, lovely, comfortable in her own skin and a devoted Mom. Stay tuned as you will be seeing more of Morgan Cooper in some upcoming episodes of SmartFem Entertainment TV.