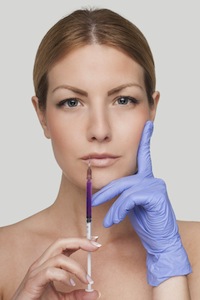 Full and voluminous lips are one of the biggest trends this season. The desire for beautiful lips has escalated in the past decade thanks to celebrities like Angelina Jolie, Christina Hendricks, and most recently, the skyrocketing popularity of Kylie Jenner's extra plumped pout.
Thanks to advances in technology, it is no longer necessary to head straight to the surgical table. Like I mentioned before, I began my tattoo removal process over a month ago at IMAj Institute, one of the leading esthetics schools in the country. I met with Augustina Snowden, Master Sculptor Instructor at IMAj, to learn more about the IMAj Sculptor and the benefits of using it as a non-surgical lip enhancer. I was so amazed with what the Sculptor can do that I scheduled my appointment that afternoon.
One of the great things about using the Sculptor as a non-surgical lip enhancer is that it warms and lightens the skin, the warm strokes with the Sculptor help stimulate collagen, increasing its production. Although I am only 22 years old, I have often heard that taking care of your skin at a younger age makes the rejuvenation process smoother when collagen stops reproducing. Augustine confirmed that, adding that not only does it make the process smoother, but it also makes for greater results in the future.
The estheticians take the time to stop during the procedure to make sure you are happy with the results. As a busy mom, I don't have a lot of spare time to spare; so this treatment is perfect for a busy mom on the go.
Here are some tips to keep in mind before making your appointment:
Stay hydrated – Keeping your body hydrated before starting the treatment makes for better results.
Results vary – Results can vary from three months to three years depending on your lifestyle. Good lifestyle choices like nutrition and the use of sunscreen can increase the
Procedure Time – The time you should expect to spend going through with the treatment depends on the results you are going for. (15 minutes +)
Remove Makeup – Cleansing the area before the procedure is something that is taken very seriously at IMAj, be prepared to remove some of your makeup, or do what I did and show up with a clean face.
No Pain – No pain is associated with this procedure. While you will feel some heat, it comes with no pain whatsoever.
No Downtime – Can go right back to work or daily routine.
One of the things I enjoy the most about IMAj is that while you receive services from both students and instructors, you can hardly tell the difference. The students are just as professional, prepared, and take excellent care of each client. For more information on non-surgical lip enhancers, or any other services offered IMAj Institute, call (480) 361-8585.