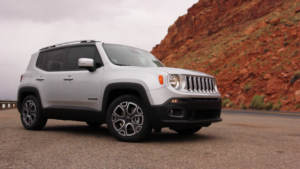 Within the competitive small SUV market, the 2015 Jeep Renegade is an all new entry designed to shake up the competition and appeal to a whole new generation of Jeep lovers. Starting at under eighteen thousand places it competitively in front of the Chevrolet Trax and the Nissan Juke, both of which are smaller and costlier than the 2015 Jeep Renegade. Opting for the more capable Jeep Renegade Limited 4×4 equips you with a fully capable off road vehicle that will take you anywhere you want to go over the weekend and is just as comfortable getting you back to work Monday morning.
Jeep Renegade Video Review
You can't properly test drive a vehicle like this just around town so I thought what better place to take a new Jeep in Arizona than Lake Powell.  A working road trip complete with camera equipment, lights and luggage. Lake Powell is a hidden jewel in the desert and is one of the most spectacular, rugged and beautiful areas in Arizona.
Be sure to check out SmartFem's upcoming exclusive feature of Lake Powell and the Antelope Point Marina. Antelope Point is the newest and most spectacular marina on Lake Powell and is most convenient for Arizona residents. Antelope Point is located near Page, Arizona and is famous for houseboat rentals and being the closest land based marina to both Antelope Canyon and Rainbow Bridge.
The old adage "the journey is just as important as the destination" certainly rang true as we enjoyed the roomy luxury of the 2015 Jeep Renegade as well as all the bells and whistles you usually only find in a full sized SUV.  All our equipment fit neatly in the cargo compartment in the back without having to fold down the seats or obstruct the view through the rear window.  The large cargo area includes a spacious hidden storage area for safety and security making this vehicle a capable and economical work horse as well as fun weekend getaway car.
Jeep is an iconic American brand made famous by its success as a military General Purpose vehicle or "GP," a possible explanation to the origin of the nickname "Jeep."  While the Jeep brand has changed and grown over the years it has retained its heritage as a rugged all-terrain vehicle. This fully redesigned 2015 Jeep Renegade Limited is certainly not your dad's Jeep with its high tech interior, 2.4 liter Tigershark "MultiAir" engine and 9 speed transmission. The trend setting new design captures the essence and brand identity of Jeep ("since 1941" is embossed on the dash) while serving an entirely new market. If you haven't looked at Jeep before, now's the time.
SmartFem magazine recommends a visit to Airpark Dodge, Chrysler Jeep in Scottsdale to test drive this new 2015 Jeep Renegade.  Airpark hosts the annual Jeep Jamboree, has Jeep enthusiasts on staff and are considered the premiere Jeep experts in the Phoenix area valley. You will not find a better Jeep dealer around. Tell them Lea sent you and be sure to email me about your experience at Airpark.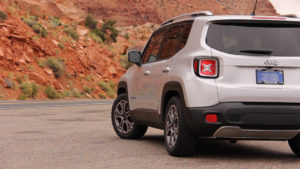 The drive from Phoenix to Lake Powell up Interstate 17 and through the canyons of Route 89 is scenic and demanding.  The nine speed transmission would shift gently for optimal hill climbing and passing performance while retaining fuel economy.  I had no difficulty accelerating to pass trucks up hill in 75mph speed zones.
Our Renegade sat patiently waiting for us as we toured Lake Powell with boat trips up Antelope Canyon and Rainbow Bridge Pass where we viewed the spectacular scenery of this beautiful place. The Jeep seemed equally at home in a rugged canyon pass as it did driving though Paradise Valley and Scottsdale.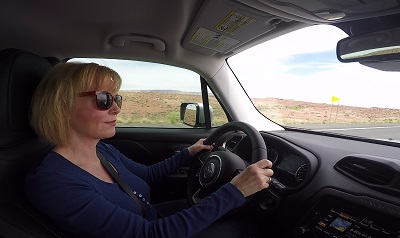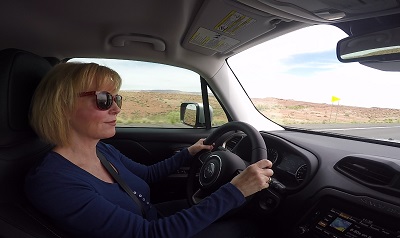 The Limited is available as a 4×4 or 4×2 front wheel drive (for those who don't need to climb rocks). Our test model included leather trimmed seats, remote start and one of the most amazing navigation/entertainment systems I have ever seen with a five year subscription to XM satellite radio and traffic. I probably drove my poor hubby crazy fiddling with all the gadgets while rockin' out to the 80's on the XM satellite radio. The Jeep has always represented adventure and freedom and now it can be combined with a touch of urban luxury, economy and affordability. There's even an option for a built in WiFi hotspot if you absolutely can't leave your laptop behind on your weekend trip to the mountains.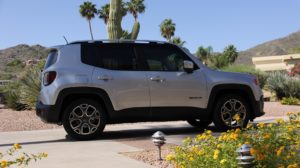 While shooting video for this review of the 2015 Jeep Renegade we were approached and asked about the car. "Is that the new Jeep?" we were asked.  There is no doubt about the heritage of this new small SUV with its distinctive Jeep grille that blends nicely into the trendy new lines. The refreshing new look combined with luxury features, space and affordability will have the new generation of Jeep lovers talking about the new 2015 Jeep Renegade for a long time.