As grandparents, never underestimate the value of surprise when planning a quick trip with your little charges! My husband and I pulled off a fun last-minute trip to the Grand Canyon when we realized that we would be able to abscond with our kiddos for a 4-day, end of summer mini vacation. Rather than include our 8 and 5 year olds in the planning phase as we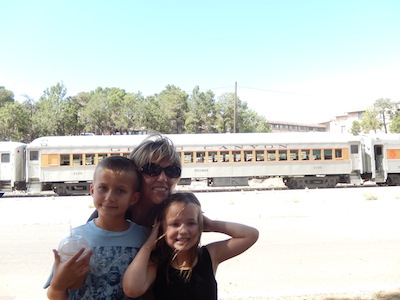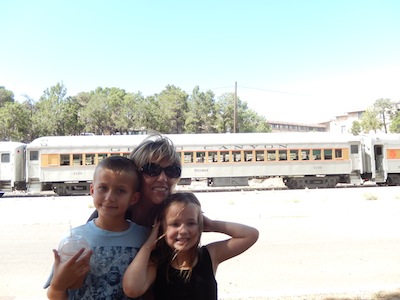 generally do, we simply had our motorhome parked in front of our house, ready to load up for the trip when our daughter dropped them off. We did, however, let our daughter and son-in-law in on the plan, so they arrived with bags ready for cooler weather! You should have heard the peals of laughter when they realized that they would be coming on the trip to the Grand Canyon, and that a ride on the Grand Canyon Railway was involved- priceless!
Entirely too much time had elapsed since we last visited the Grand Canyon, and a ride on the rails was on our wish list, so all four of us were super-excited on the 3 hour drive from Phoenix to Williams, Arizona. Our Arizona grandkids are seasoned motorhome travelers, so 3 hours was a piece of cake for them. Of course, it helps that we never need to stop for drinks, bathroom stops, or food on the way. The novelty of it never seems to get old, and these motorhome trips are permanently engraved in their memories.
Convenience is the name of the game when you are describing the Grand Canyon Railway experience. From their website and booking personnel, to the Grand Canyon Lodge and RV Park in Williams, everything is designed for a seamless, easy trip. It's rare when you can stay at an RV park and have literally everything you need within walking distance. That's right, historic downtown Williams, Arizona (the last town bypassed when Route 66 became I 40) and all of its amenities; shops, restaurants, bars, and even a zip-line (auto-themed of course), the Williams Depot, and the aforementioned Lodge are all just steps away!
The train experience begins with a Wild West shootout prior to boarding at 9 a.m. Hilariously predictable, it got the audience in the mood for a trip back to an earlier time. Because I love all things historic, I booked us on the Pullman car for our Grand Canyon adventure. Built in 1942, this car is a beauty with working windows, original fixtures, and beautiful woodwork! Now load this classic rail car up with exuberant tourists from every corner of the world, and you have the makings of a fun-filled day! You may be surprised to know that the railway boasts 200,000 passengers annually.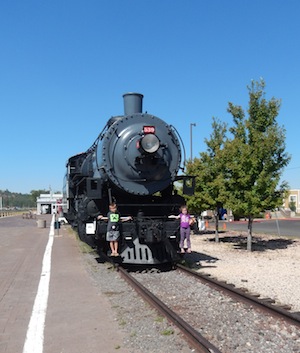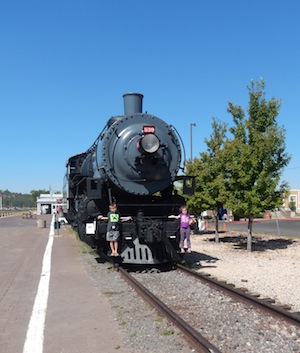 If you want to experience this trip with a steam engine, you can do so from April – September on the first Saturday of the month, or for special holidays. Back in September of 1901, when the Grand Canyon Railway opened to passengers, the trip from Williams to the South Rim took 3 hours, but now the 65 mile trip takes just 2 hours and 15 minutes. The schedule allows for 3 and one half hours of exploration at the rim before the departure back to Williams. If they said it once they said it ten times – do NOT be late for the return trip, as this train waits for on one! The Grand Canyon depot was completed in 1910 and is conveniently located just a couple of stairs and walkways from the Rim. Don't be afraid to bring the little ones here, there are guardrails and safety warnings everywhere.
The Grand Canyon Railway operated from 1901 to 1968, and then took a 21 year hiatus during which the community of Williams did its utmost to save this great railway. In 1989 rail service once again began carrying passengers from the Williams depot to the "Great Abyss", so dubbed by naturalist John Burroughs. As with so many great restoration projects, it takes passion on a local level to save what truly is a national treasure. Our three and a half hours at the South Rim passed quickly. There were countless photo ops, and lunch at the Bright Angel Lodge, harkening us back to the glory days of National Park Lodges with Harvey Girl style service by a wait staff from every country on the planet it seemed. After lunch we visited shops, The Hopi House, El Tovar, and Kolb Studio, watched some amazing Native American hoop dancers, chatted with a Park Ranger about the local critters, and even had time for an ice cream stop! The South Rim is an incredibly gorgeous spot to view the canyon and while you walk along the paths you will literally be at eye level with the soaring ravens and condors-breathtaking!
The return trip back to Williams was just as fun as the trip up to the Rim. We were lucky enough to see a herd of elk (wapiti) and it was fun listening to all that our fellow passengers had done with their 3 1/2 hours of free time at the rim. You can also book bus excursions, horse rides, and other activities to round out your canyon experience, if that is your wish. The staff aboard the train is knowledgeable, and always ready to show passengers a good time. In addition, there is musical entertainment (quite talented) and horror of horrors – a train robbery! We all had our parts to play in this farce, but nothing got past our 5 year old granddaughter, "Those aren't train robbers, they are the guys from the show this morning." Perhaps they should consider a costume change, but it was fun watching them gallop alongside the train for said "robbery."
While many here in Arizona have taken the "Polar Express" or the "Pumpkin Patch Train" offered by the Grand Canyon Railway, I highly recommend pulling out all the stops and taking this line all the way to the Grand Canyon. It's a rare chance to relive train travel as it used to be. You and your grandchildren will never forget it!
If You Go:

1.800. the.train (800.843.8724)

www.thetrain.com Daily Departures

Six classes of service, from $62 to $209 per adult; Children $29 to $140

Grand Canyon Railway RV Park $39.99 per night