Looking for a fun activity to beat the heat and have a great time? Give Art of Merlot a try! Nestled in Old Town Scottsdale off of Goldwater Boulevard on Main Street, Art of Merlot is a painting studio that caters to the needs of any skill level. It is a perfect destination for a romantic and interactive date night!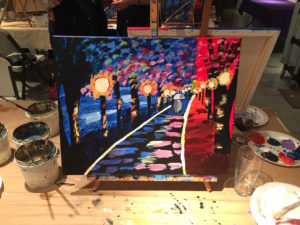 Art of Merlot follows the newly-popular "paint and sip" model, you are more than welcome to bring your own food or bottle of wine to enjoy while being taught how to paint a masterpiece. There are a variety of wines, craft beers and soft drinks available for purchase at the studio as well.
It is simple, take a look at the events page on their website and browse which painting class will be taught on which days and at what times, pick your favorite and reserve a spot! That's it! This way you know what you are painting and have the ability to choose your favorite one offered!
Coming from someone with no painting experience, the instructors at Art of Merlot create a relaxed, no-pressure atmosphere and are there to assist you to ensure you adore your masterpiece. The instructor shows you an example of the painting you will create and also has a blank canvas on display, just like the one at your station. They will demonstrate and then you create! The step-by-step instructions make you feel like you're capable of becoming Picasso even if your artistic endeavors stopped long ago with finger painting.
The classes are typically between two and three hours which seems like a long time, but once you get going you won't even be looking at the clock! If you're looking for something new, fun, and memorable to do, I would highly recommend Art of Merlot. So, head on in, listen to great music, sip on your favorite wine, and leave with a painting you are proud of; one that holds great memories.