Piloting an aircraft is either exhilarating or terrifying, depending on your inclination. One thing, however, is for sure: Aviation has historically been a male-dominated world and women pilots were rare.
But according to one flight school, the participation of women in flying is, pardon the expression, soaring. The number of women pilots has increased dramatically at Elite Flight Training in Scottsdale, Arizona. "For the first few years we were in operation, we had no female students. Now we have six women in the left seat," says Chief Pilot Chuck Lapmardo.
Why the sharp increase in female involvement in aviation? The reasons are as varied as the women.
For sixteen-year-old Mary Dover, the sky is literally the limit. "I like to do everything I can, while I can." For her, piloting an aircraft is fun and exhilarating, although she doesn't see aviation as her first career. She's already on track for a career as a doctor, and will volunteer this summer as a medical intern at a hospital in India. But never one to limit her options, Mary doesn't rule out a career as a pilot sometime down the road.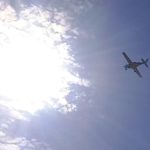 Related: Flying Out of the Comfort Zone!
Kiah Erlich, Flight Support Services Business Leader at Honeywell Aerospace, has built her career around her passion. Since her first Intro flight
on her 16th birthday just 10 years ago, she has earned her Private Pilot License and graduated with undergraduate and graduate degrees in Aviation Business Kiah has worked in all aspects of airport operations at a major international airport and is now back in the cockpit to complete her Instrument Rating. Kiah is not stopping there: "I want to go as far as I can. My goal is to fly the jets that use Honeywell's most advanced avionics systems."
Kiah's message for all young women is, "Don't be afraid to follow your passion." I believed in mine, and now I have an amazing job where I develop and market new technologies that help other pilots and advance the industry."
Twenty-seven-year-old Katryna Novelozo is another kind of aviation professional. She is not only a United States Marine, but is a Certified Flight Instructor, training student pilots. For her, aviation is a career and a passion. "Flying is exciting and challenging, and I love teaching it to others." There is always more to learn in aviation, and Katryna welcomes every opportunity to push through to a new level of expertise.
Mandy Foulkes, mother of a 12-year-old son, had flown many hours in a single-engine aircraft as a passenger. She said, "Why shouldn't I be the one in the pilot's seat?" and worked to earn her Private Pilot License. What did Mandy find most challenging? "I didn't understand how much practical, technical and theoretical training was involved. I haven't studied so hard since college!" But the reward of achieving her objective was well worth it.
Women make exceptional pilots. Attention to detail, a cool head under pressure, and the ability to multi-task are all traits that are invaluable in the cockpit. To increase women's participation in aviation, we just need to look to our role models, like the women pilots at Elite Flight Training.