Ah, 'tis that time of year. The time when the rest of the country is gearing up for fall and all the wonderful fashion shows for the fall/winter 2017 season.
However, unlike New York, Arizonans are gearing up for summer, round two.
That's right, when the rest of the country is pulling out thigh high boots, wool capes and wide brim hats, we are still pulling out sandals, shorts and cotton tank tops.
Because fall/winter accessories are in hibernation longer, here are some tips for keeping your precious items stored safely and neatly in your closet.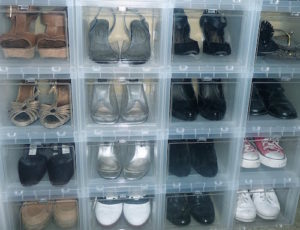 Store your shoes in bins
You can buy wonderful storage bins just for your shoes at any closet origination store. They come in sets or individual bins, and are great for keeping leather boots or heels away from dust and off the floor. 
I've even seen cleaver DIY shoe racks that are easy and inexpensive to make. If you are blessed with the closet real estate, buy a shelving unit and shoe boxes that are the same size so they are stackable. If the bins are not plastic take a photo of the shoes and paste it to the front of the bin for reference. 
For those who have a built-in shoe rack the bin method works as well, and doubles the space you otherwise would get from displaying them.
If you want to keep your boots upright
This little gem is an idea I came across on Pinterest and thought it too good not to share. If you like to store your leather boots upright, get a pool noodle, cut it in half, and stick in your boot. This helps maintain the boot's shape.
Store purses in dust bags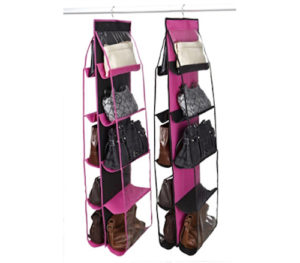 If you have a fine collection of expensive leather purses like Louis Vuitton, Hermès, Chanel, etc., it's best to store these bags in the dust bags they came with at the time of purchase.
Dust bags help preserve the life and quality of the leather. They may not look pretty in a little row, but your excessive investments will stay safely stored, especially if they are bags you only go to on certain occasions.
Hang purses in organizers
Have extra hanging space? Believe it or not there is such a thing as a hanging purse organizer. With five pockets on each side, this nifty gadget safely stores your purses while allowing easy access to all ten bags.
Storing your belts
Depending on space, there are three options for belt storage:
In a drawer- Closet organization stores have drawer inserts that separate your belts in a mess-free manner

Hanging- If you have rod space you can purchase a belt organizer that hangs and has prongs for hanging your belts by their buckle.

Wall space- Hang hooks on a wall in your closet to hang your belts on by the buckle.
Hang your scarves so you can see them
Take a hanger and put shower curtain rings on the rod of the hanger. Thread your scarves through the rings and hang in your closet for an easy scarf storage solution.
Like the closet tips? Let us know by sharing your comments.