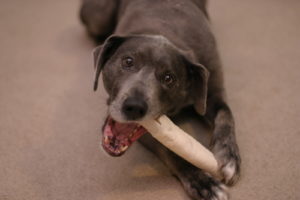 Dogs can fall victim to bad breath at any age.
In some cases bad breath can be caused by an oral health issue that should be treated by a vet.
However, in other cases bad breath in dogs can be caused by simple factors such as their food, supplements, or bacteria in the mouth.
With simple cases there are natural and over-the-counter remedies that help eliminate your dog's stinky mouth with routine use.
Breath freshener added to water
Any pet store will carry a water additive that will help control stinky breath. Usually these additives call for a capful or so to be added to the water bowl daily. The only downside of this product is it won't cure bad breath in all cases. Some dogs need more than a water additive, but others do great on this product.
Add parsley to their food
Chopped parsley added to your dog's food is said to help eliminate bad breath. The parsley helps prevent bacteria from growing in your dog's mouth which causes bad breath, according to Modern Dog Magazine.
Breath strips or mints
Believe it or not Arm & Hammer makes breath strips that look just like the ones we use. They dissolve in the mouth and help with bad breath. Mints are another product pet stores carry. One thing to keep in mind is breath strips and mints are products for a more short term, quick fix solution.
Chews
Greenies is probably the most notable brand for this product. Giving your pet chews or bones, especially ones with ridges, is a great way to help eliminate bad breath. The ridges rub against the teeth and gums to help clean tartar, which is a culprit of bad breath.
Brushing their teeth
This is probably the most effective method, but not all dogs will tolerate their teeth being brushed. If your dog is fine with this method, I highly recommend teeth brushing over anything else. Toothbrushes and toothpaste are sold together and can be found at any pet store. Weekly brushing will quickly help with bad breath, and aid in preventing gum disease and tartar buildup.
Oral care is important for any pet, and multiple methods can help keep your dog's mouth clean and fresh, and their health in tip top shape.