Fur coats are some of the best accessories a person could own, but what is one to do when the time of the year comes when it is absolutely too hot to rock one? If you were considering simply hanging them in the back of your closet… think again.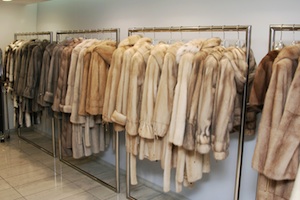 Fur coats are delicate accessories and can't simply be stored in a box like a pair of shoes. They need the proper care to be able to keep their original look and feel. So what is one to do when the temperature exceeds 100 degrees? The first step you must consider is proper storage.
Just like Arizonans on hot summer days, furs need to stay in cool places. Heat can dry the oils in the fur, causing it to damage and even lose its value. Direct sunlight can also damage your furs, causing them to fade. Consider investing in storage specifically for your furs. The proper temperature for furs is 50 degrees Fahrenheit and 50 percent humidity. Usually, the air-conditioning in one's home is too humid for fur storage.
Specializing in all of your needs relating to leathers or furs, Evans Furs understands the importance of proper storage for your furs. They offer a safe, climate controlled, and pest free space for your fur accessories. When it comes to your valuables, it is best to play it safe and trust the experts.
Remember, if you want to keep your furs in excellent condition for next fall/ winter, you must store it in the proper conditions listed above.