For centuries we've dressed by the rule that vertical stripes make us look taller, while horizontal stripes make people look fatter.
The truth is…wearing stripes of any kind is tricky business!!
Classic navy blue and cream colored horizontal stripes take us back to the days of Jackie O, when being "dressed up" was THE thing to do. Couples dressed for everything from date night with live jazz, to church and everything in between. There was a sense that we cared how we looked. Move ahead a half a century and we're wearing pajamas out in public.
It's more likely you will see a couple in workout clothes (don't even get me started on this trend!) than dressed for a night on the town. Classic horizontal stripes have made way for big box store horizontal stripes and let's just say we aren't looking our best.
If you're going to wear horizontal stripes, be aware of the following:
Horizontal lines make your body look shorter and wider. If you're wearing a shirt and the lines are at your bellybutton that will appear to be the biggest part of your body.
Avoid horizontal stripes at the biggest part of your body. If you carry weight at your belly, consider wearing a non-striped shirt or try one of the tricks I listed below.
The wider the stripe the wider the area will appear. Avoid wearing a lightly colored stripe across your bottom…unless your bottom is small.
The more contrast in color of the background and stripe, the more widening effect. Choose shirts with stripes that are relatively close in color to avoid the widening effect.
If you're heavier on top be cautious about how you're wearing stripes. They can make you look broad. To avoid looking wide on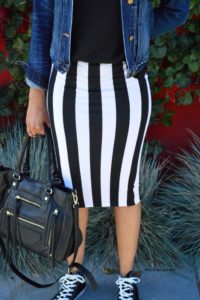 top try these tricks that will take eyes off your shoulders:
Add a vest and/or necklace.
Crew neck instead of V-neck.
Wear a solid colored t-shirt under an open striped sweater.
Add a solid colored scarf or sweater. Minimize the impact of widening when you pair horizontal stripes with elements of vertical design. Chevron is a better option if you want to wear stripes or a pattern.
While there have been studies indicating horizontal stripes, or any kind of stripes for that matter, are more flattering than say a black outfit with an oversized blazer…I am still of the mindset that horizontal stripes don't look good on most people.